The Animals and the Angels, Part II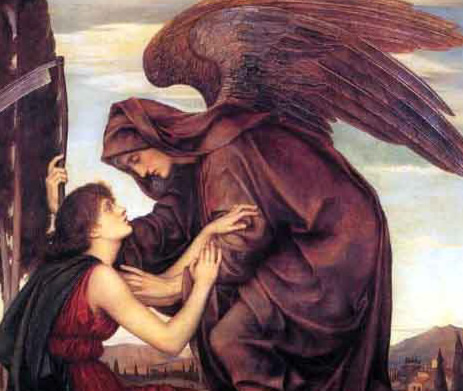 The editorial in the April '06 issue of PT commented on William Blake's poem "Night," in which the narrator describes angels walking through the fields at night, caring for the sleeping animals. The angels weep when any are killed by predators, and carry the souls of the victims to the Peaceable Kingdom, in which the sheepfold is guarded by a compassionate Lion.
Philosophical Background
This narrative, which is likely to be seen by many as sheer fantasy, has implications for the nature of reality that are worth examining. The confident assurance of many educated people in our culture that death is extinction of consciousness is not, as they assume, a scientific finding. It is a cultural belief, part of a materialistic worldview that evolved out of the philosophical ferment in the seventeenth century during the birth of science. The dualism associated with Descartes that separated mind and matter as two different realities was adopted not only by scientists throwing off the rule of religious authorities, but by religious thinkers who actually intended thus to safeguard the reality of God and the immortal human soul, which was under challenge at that time. But in the next centuries, this plan backfired, because it is hard to imagine how two totally different realities can interact at all. Thus the soul--or consciousness--came to be seen as a mere byproduct of the brain, or even nothing but the brain. In any case, it implies that consciousness is extinguished by death.
There are serious problems with materialism which philosophers are increasingly recognizing. There are mountains of evidence of different kinds that it cannot accommodate. Of particular interest to us is evidence (not proof) that human consciousness survives the body's death. This evidence is of various kinds, including veridical (truth-telling, evidential) instances of apparitions, reincarnation-type claims (especially by small children), mediumistic communicators showing initiative, and Near-Death experiences (NDEs). The whole issue is extremely complex (see my 2001 book The Uttermost Deep: The Challenge of Near-Death Experiences); I can hardly do more here than provide a very rough sketch with a few examples.
Near-Death Experiences
Of the different types of evidence of life after death, NDEs come closest to the pivotal action in Blake's poem, the angels' conveying the animals' souls to paradise. Remarkably, one of the pioneers of NDE studies was Frances Power Cobbe, also a pioneer of animal defense, featured in our February '06 PT. In the title essay of her book The Peak in Darien, Cobbe presents several cases she collected which, as she concludes, strongly suggest that the death of a human being is not extinction but expansion of consciousness. For example, in one account, "At the last moment so bright a light seemed suddenly to shine from the face of the dying man, that the clergyman and another friend who were attending him actually turned simultaneously to the window to seek for the cause (pp. 296-97)." Such a perception of an awe-inspiring supernal light has been reported by many persons, mostly unfamiliar with the pattern, who came close to death and returned; only rarely, however, do bystanders also see it. In many cases the light is felt to be alive and intensely loving, but some experiencers find it distressing and seek to evade it. In Blake's poem, supernatural light is suggested by the gold tears and bright mane of the lion, and the "immortal day" of the new world.
In another case from Cobbe's collection, involving a spiritual welcoming party akin to Blake's angels, a dying woman in joyful surprise told of seeing by her bedside her three deceased brothers, then described a fourth thought to be alive in India. This "excited such awe and horror in the mind of one of the persons present, that she rushed from the room." In time the news came that the brother had in fact died before this date (p. 297). (This kind of case, in which a welcomer not known to be deceased appears to a dying person, is now known as a "peak in Darien" case.) In popular literature, angels, both as guardians and welcomers, tended to be conflated with the spirits of the beloved deceased.
In a a few rare cases, bystanders have also seen welcomers; for example, from the files of the Society for Psychical Research comes the nineteenth-century case of a dying Harriet Pearson who told of seeing her beloved deceased sister Ann. But before Harriet perceived the figure of her sister, no fewer than three of her caretakers, then in other parts of the house, saw an apparition of Ann Pearson, in her distinctively old-fashioned cap and shawl, walking towards Harrier's room. (Myers, Human Personality, Vol. 2, pp. 333-34)
Unlike the above, most NDE cases are not (potentially) evidential, but many are impressive nonetheless because they include themes common to other NDEs, and to afterlife concepts prevalent in cultures distant in time or space, themes which the experiencers neither knew of nor expected. Another notable factor is their evident power in many cases to lead to extensive and often liberating changes, including psychic gifts, in the subsequent lives of the experiencers.
Apparitions
There is another important case of a deathbed attendant seeing an apparent welcomer, a case much stronger than any of those cited above, because a record of it was made by the experiencer very shortly after it took place. (As a pioneer, Cobbe was unaware of the principles, developed later, of careful recording and second-party attestation of psychic events.) In this account a nurse, Mary Wilson, was sitting up at night attending a dying Mrs. Rogers. The patient had spoken of her eagerness to see her (deceased) husband Mr. Rogers and her children again, which made Nurse Wilson rather nervous. At about 2:30 A.M. Mrs. Wilson happened to glance toward the door of the room, and she saw standing there a redbearded, florid-faced man who looked first at her, then at the unconscious Mrs. Rogers. At first she thought he was a living man, but his motionlessness soon made him seem uncanny. When the nurse looked away momentarily, then looked back, the apparition had disappeared. A search turned up no such person in the house. Inquiries the next morning from Mrs. Rogers' niece produced the information that the apparition did not at all resemble Mr. Rogers, but looked exactly like the patient's first husband, Mr. Tisdale, 35 years deceased. Mr. Tisdale was completely unknown to the nurse and to any other persons in the vicinity.
This case is particularly significant not only because it is evidential, but because the percipient was clearly uncomfortable with the idea of contact with the dead, knew nothing of the distinctive-looking Mr. Tisdale, and had no motivation for unconscious creation of such a figure, as Mrs. Rogers herself might have had. The case strongly suggests that, at least in some instances, deathbed welcomers are more than images that might be projected by dying persons hoping for reunion with loved ones.
Apparitions are one category of experience suggesting human survival. There are others: a sense of presence, voices, footsteps, electronic phenomena such as lights inexplicably going on or off at significant times, characteristic scents (perfume, tobacco), shared dreams. Surveys show that a great many bereaved persons, especially spouses and parents, have such experiences, but most keep quiet about them. Many cases are not evidential, but in a small percentage of them, when two or more persons experience such an unexplained phenomenon at the same time, the impact is increased, and it becomes less likely that the explanation is wish-fulfillment on the part of the bereaved.
Animal Survival?
So much--or so little rather--about human experiences that suggest human survival of death. But how about animals? There are a number of collections of cases of this kind, and it is significant that they are quite similar to the categories of accounts suggesting human survival: apparitions, a sense of presence, characteristic sounds (barks, miaows, jingling tags, jumping or padding feet), unexplained familiar scents, vivid and coherent dreams of the deceased. Some (including dreams) are experienced by more than one person at once. Most have to do with animal companions, but on rare occasions, apparitions of wild animals have been seen as well.
As in human cases, many such experiences, though comforting to the bereaved, are not evidential. But they do not all happen to bereaved caretakers. Author Kim Sheridan tells of a case in which the apparition of a deceased dog, a white toy poodle named Skila, was seen by a chiropractor who had several times given her a spinal adjustment at the request of her guardian Barbara Myers. The chiropractor knew Skila very well; she had more than once come down the hallway of his office to greet him, and had enthusiastically jumped into his arms after the adjustment, perhaps to thank him for relieving her back pain. But not only was the chiropractor (like the nurse Mary Wilson) not hoping for such an apparition, he had been firmly convinced that all such claims were nonsense generated by grieving guardians. He called Myers in great agitation, very fearful that he was hallucinating and losing his mind. They discussed the matter several times, and she was able to reassure him, so that when he saw Skila's apparition a second time several days later, he was able to deal with it. The experience led to a major change in his life in regard to his attitude toward animals, with the result that the man who had been uninterested in keeping an animal companion adopted a dog himself. The case is suggestive. (Kim Sheridan, Animals and the Afterlife, pp. 170-72).
The question of whether angels come as welcomers to dying animals is, of course, going to remain very hard to settle one way or the other. But the idea is worth taking seriously. These few comments can hardly do more than encourage readers to question received notions and perhaps look into the evidence fo themselves. But if in fact the more highly evolved animals do survive death, the implications for ethics are important. I will explore this topic in the June issue.
—Gracia Fay Ellwood
We invite responses to editorials or any other feature of PT for our next issue's letter column: graciafay@gmail.com.