Speaking to the Heart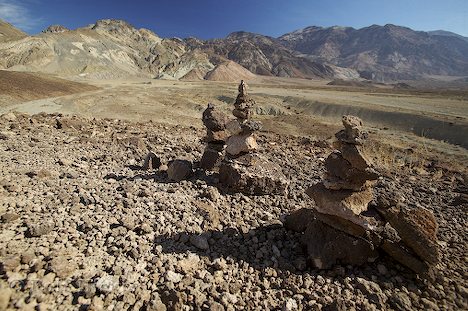 In previous issues, this column has dealt with the Biblical theme of Exile as a symbol helpful to illuminate the feelings of animal defenders who find themselves no longer feeling at home in their spiritual communities because their message of compassion for animals has been rejected and their motives misunderstood or abused. Another helpful image, loosely linked to Exile, is the theme of Desert; to this I now turn.
The Original Story
The ancient narrative of Israel's Exodus from slavery in Egypt and subsequent journey to the Promised Land includes a long period of passage through wilderness or desert. The somewhat archaic term "wilderness," though harder for us to visualize than "desert," is appropriate because "wild-" suggests a place inhospitable to human life, the opposite of home and belongingness. In this trackless wasteland the people are lost and dependent on God's guidance via a pillar of cloud moving ahead of them by day, becoming a stationary pillar of fire by night. They wander for forty years, the number forty coming to represent such a period of distress and dependency.
Water, essential to human life, is scarce. Occasionally they are led to oases, but at one point, when they feel thirst is about to claim their lives, Moses at God's command opens a miraculous fountain from a great rock. Food is likewise hard to find. The people are dependent on manna, the "bread from heaven," that appears on the ground in the early mornings. Invariable manna finally gets tedious, and the people crave flesh. This God reluctantly provides in the form a great flock of quails, but as the people are eating the bodies of the birds, God is angered by their greed (and perhaps also their violence).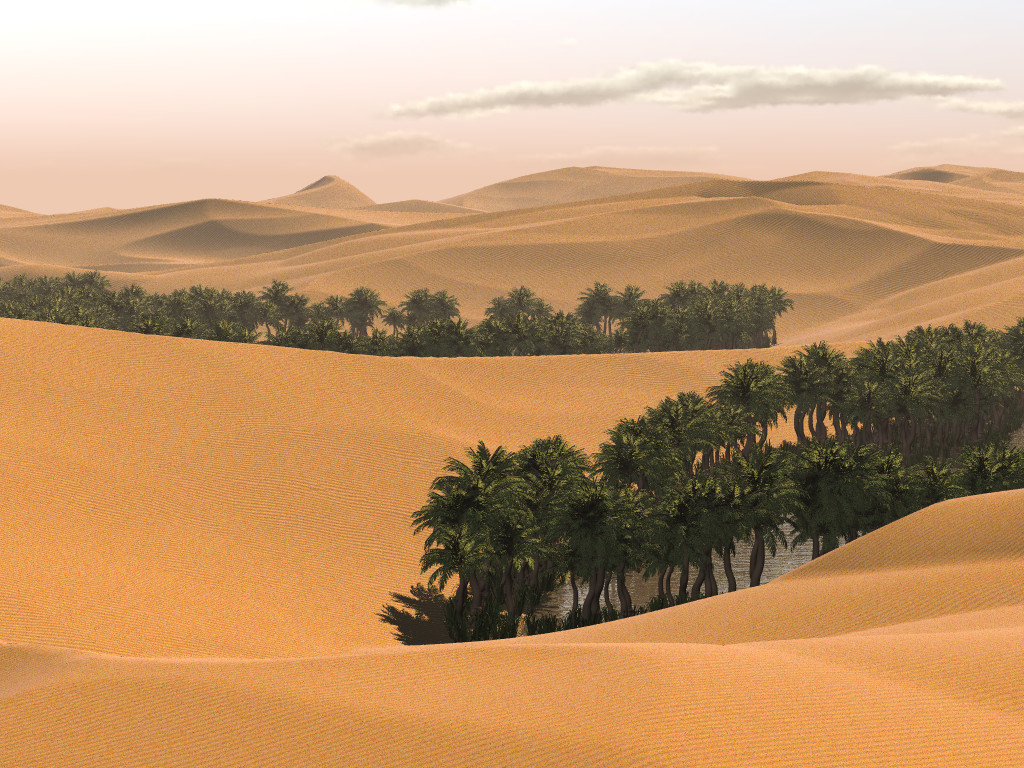 The wilderness journey is a period of closeness to God, with signs and wonders, but also of need, frustration, uncertainty, fear, boredom, of forced dependence on an inscrutable Providence. Often that Providence acts on their behalf, but at other times lashes out violently at them. Finally, after long wanderings, the next generation reaches the Promised Land of plenty, but most of those who left Egypt "fell in the wilderness."
Wilderness as Symbol
Biblical writers describing later times draw on this theme of the wilderness journey, promising a renewal of Exodus to a new generation mired in idolatry and oppression. Examples from the Hebrew scriptures are Elijah's flight from Jezebel, the promised return from exile in Babylon in the fortieth chapter of Isaiah, and the passage in Hosea in which God expresses a desire for reconciliation with his erring people: "I will draw her into the desert, and there I will speak tenderly to her [or "speak to her heart"]." In the Gospels, Jesus is moved by the Spirit to go into the wilderness for forty days, where he fasts, lives with wild animals, and interacts with angels. The liturgical season of Lent also draws on this image. The familiar line from the Lord's Prayer, "Give us this day our daily bread," has in its background Israel's total dependence on God for the day's manna.
Christian mystics have made use of the wilderness theme to represent an arduous phase in the relationship of the soul seeking union with God. At some point, after an awakening, or blissful initial experience of union, the soul finds "herself" (rarely, "himself") painfully separated from her Beloved, often from human friends as well, and desperate with longing. She feels lost in a waterless wasteland where nothing grows: "Ah, how long I've panted /And my heart has fainted, / Thirsting, Lord for thee . . . ." The period of loneliness may go on for a very long time. Eventually, however, the mystic comes to perceive a transformative Presence in the Nothingness: God tenderly "speaks to her heart" without words, conveying a lifegiving Something that the mind cannot comprehend. This divine fullness is not received in the midst of the comfortable, the familiar, the safe. It is offered only when all that upon which we ordinarily depend is withdrawn: in the wilderness.
The Seeking Heart
There is no way to show someone going through the wilderness how to assuredly receive this Gift, for it is, in its essence, found in total dependence on God. It can help, however, simply to know that it exists, that it has been experienced by those undergoing the wilderness. Another thing that can help is the suggestion of spiritual teacher Tilden Edwards that we address God, either during prayer/meditation, or during the day's activities, in the form of a question, as though we were groping in the darkness for him/her: "Beloved? Beloved?" The interrogative can help us get beyond the tendency of words repeatedly used in prayer to lose their meaning, and can help us keep attuned to the Source from moment to moment.
Heart Speaking to Heart
As we learn to keep our heart turned seekingly to God, we can increasingly receive grace to speak to the hearts of others. When members of our churches/spiritual communities resist the message of compassion and insist on their right to (kill and) eat animals, especially when they are implicitly or explicitly abusive, our immediate temptation is to withdraw in pain, or respond in kind to the hostility in the speaker's words or tone. Either response is almost always counterproductive. Instead, out of the divine Presence-in-Nothingness in our own hearts, we can learn to speak to their hearts, where the divine Light which is Love lies hidden. Light reflects Light, Love kindles Love. Sometimes the process will result in the awakening of Love in the other in this area of life where it was dormant, and the other will have, in George Fox's phrase, a "great opening."
Sometimes there seems to be no response. We may or may not continue to work actively with them, but consigning them to the realm of Outsiders is not an option; they remain flesh of our flesh and bone of our bone. Most of us can recall past times when we closed our ears to an unwelcome divine challenge to "Follow me," and the bright coal of Love in our hearts remained banked over. We can be grateful that God did not then give up on us.