Editorial: The Sins of the Fathers:
The Threat of Deadly Influenza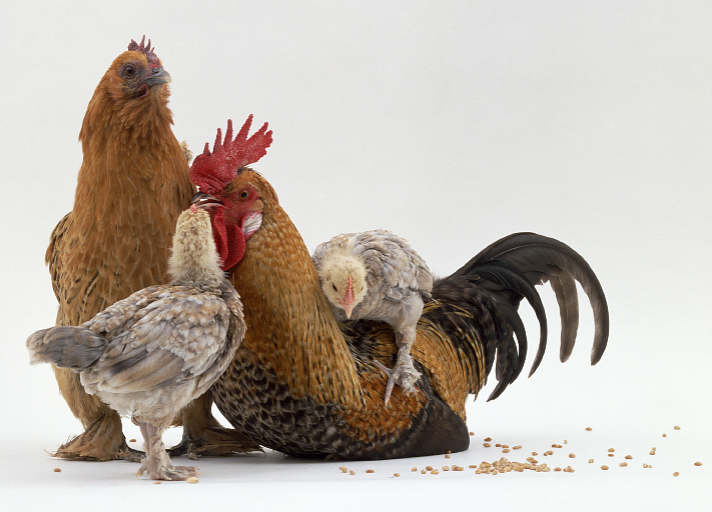 In the fall of 1918, during the most lethal pandemic in history, there were children in the United States who jumped rope to a ditty that ran
I had a little bird,

Her name was Enza;

I opened a window,

And In-Flew-Enza.
At that time, no one knew what was causing the deadly disease bringing death to many millions across the world who contracted it; the virus would not be identified until the 1930s. But the little scrap of doggerel was more meaningful than anyone then knew. The original source of the 1918 plague WAS birds--not little ones flying through windows, but birds kept in pens to be killed and eaten.
Original Sin, Actual Sin
Influenza is thought to have entered human experience about 4500 years ago, when the Chinese first domesticated wild ducks, and to have become a seasonal problem for us since then. "Domesticated," from the Latin domus, house, implies that the animal is taken into the dwelling, i.e., has become an animal companion; the word has positive, benign associations. Of course, the vast majority of "domesticated" animals are nothing of the sort: they are kept in confinement to be exploited for clothing or food or labor or entertainment. From their point of view, they are slaves, and all humans who profit from them are slave traffickers, slave owners, killers, or receivers of bloodstained stolen goods--i.e., deliberate or inadvertent perpetrators of crimes. Not so benign.(See PT 31, April 2007).
The virus had a comfortable, stable relationship with the duck nation: living in their gut, being excreted in the water, and taken in again on their food. As with various other animal nations (such as certain African apes carrying the precursor of AIDS virus, and apparently Ebola), in its original form this duck virus does its host no harm. But when an alien species invades the ducks' territory, capturing, breeding, and/or killing them, the virus may attack the invaders. Many emerging viruses threatening humans nowadays are zoonotic, i.e. crossed over from such animals.
In the past, when humans contracted the influenza virus directly from "their" ducks, the result was only a mild case of pinkeye. But when the duck slaves were confined in close proximity with chicken and pig slaves (sometimes vertically over each other), and the virus passed to the chickens or pigs, it found itself in a hostile environment. It began to mutate in self-defense, and eventually turned deadly.
Influenza viruses are made up of RNA, not DNA, and have no "spell-check" to catch mistakes when they reproduce. They reproduce sloppily, making scads of mistakes, and thus mutate at an incredibly rapid rate. (This is why specific vaccines soon lose their effectiveness.) They also "reassort," trade genes with viruses from other species. For a major human pandemic, three things are necessary: A. The virus must emerge from the animal world new or in a new form, such that humans have no immunity to it. B. It must turn deadly to humans. C. It must mutate/reassort into a form such that it is easily transmitted from person to person via miniscule droplets spread via touched surfaces, and airborne by talking, coughing, and sneezing.
Pale Horse, Pale Rider : H5N1
In 1997, the most lethal form of influenza ever known, H5N1, emerged in Hong Kong, and infected a small number of people who had been in direct contact with chickens. It was temporarily contained by a bloody massacre of all the chickens in the area. Since then it has appeared, with sub-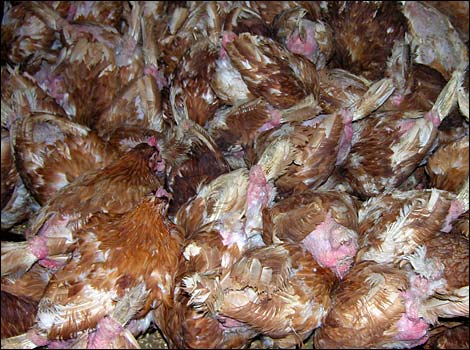 variations, in flocks of bird slaves across Europe and south Asia, and in most cases, was temporarily contained by a mass killing. The virus has even moved back to wild waterfowl, become benign to some of them, and thus proceeded to migrate across the world. It is loose among birds in thirty countries of the Eastern Hemisphere. As of November 2007, over two hundred people, most of whom had direct contact with birds, have died from it: about 60% of those who were known to be infected. (Compare the 1918 'flu, which killed between 5% and 20% of those infected, adding up to between 50 and 100 million people worldwide.)
H5N1 has not yet mutated into airborne form, though there seem to have been many opportunities. Most of the various factors involved in the mutation process are abundantly provided in the lucrative animal-prison system entrenched, by means of political cronyism, in the United States, Thailand, and other countries. Bird slaves are jammed together, highly stressed, forced to grow so fast their immune systems are badly compromised, their feces (infected with various kinds of viruses) building up under them, foul damp air circulating and recirculating through the buildings where virus-terminating fresh air and sunlight never enter. Free-range bird slaves are also vulnerable, especially when wildfowl come nearby. When the birds are shipped to killing houses, the stress of transport causes viral reproduction to accelerate markedly. The rapid killing processes result in internal feces being dissolved in the scalding and cold baths, and thus spread over and throughout the severed corpses.
"Safe Handling"
When cooked to appropriate temperature, the various viruses (including not only a potentially mutated H5N1 but salmonella, e. coli, campylobacter, etc.) are killed. But, as a journalist has pointed out, well-cooked s___ is still s___--a useful gross-out point in alerting consumers to what is really going on! Before any amount of cooking, viruses have multiple opportunities to lodge on hands that pick up the sealed packages, on the pieces, on cutting boards, salad vegetables, cleaning cloths, and the like. Refrigeration and freezing even prolong the life of the most lethal hitchhiker, the potentially mutated H5N1 virus. The "safe-handling" instruction card in each package means, in fact, that the contents are dangerous. The only really safe way of dealing with commercial eggs and bird corpses is to boycott them.
Reining In the Pale Horse?
Vaccines will probably not be available on mass levels until six months or more into a pandemic. Because they take time to produce, and are ordinarily not as lucrative as products like Viagra, the big pharmaceuticals have little interest. How about antiviral drugs like "Tamiflu"? This prescription course of ten pills does slow down the proliferation of 'flu viruses, giving the body a much better chance to resist the invader. (At $200 a course, it is obviously tailor-made for the world's millions of poor.) A single pharmaceutical giant, Roche, which owns the patent to Tamiflu, produces it in a single factory in Switzerland (a second is now being built in the US) and threatens with legal action third-world governments who want to make the drug. Some countries like France and England have Tamiflu stockpiles for about 25% of their population. Because the Bush administration ignored scientists' warnings and delayed to place its orders, we in the US are about 40th on the international waiting list; as of mid-2006 we had enough Tamiflu for roughly 2% of our population. There is another potentially helpful antiviral, "Relenza," but it must be inhaled, and inhalers will probably be as scarce as the drug in a pandemic.
Some critical voices (few of them virologists) are claiming that since the H5N1 has not in ten years taken that last deadly step into airborne form, it probably has some Factor X preventing such a development. So why worry? But causes for worry remain. Sub-subtypes of the virus H1N1 were apparently circulating for about eighteen years before one went deadly in 1918 and learned to fly. There are also indications that the H7 or H9 subtypes might turn lethal to humans and go airborne. Most knowledgeable public health authorities consider a pandemic inevitable. What remains uncertain is: will it happen in a week, or in a decade? How severe will it be? How long will it last?
A worst-case scenario would have two billion sick and a billion dying, transportation stopped, food markets empty, electricity and water service halted, panic, violence--in short, civilization a shambles, every major city a post-Katrina chaos particularly for the poor. A lesser attack might resemble the autumn of 1918: in the epicenter in west and central India up to half the population (especially the poor) died of plague and famine, while other areas like New York City reached the brink of breakdown, but social order did survive because the pandemic receded just in time.
Hope is the Thing with Feathers
In any case, one of the most hopeful factors in this gloom-and-doom-laden prospect is the fact that it has not happened yet; we can pray, and we can prepare. We are far from helpless. Panic buying is a bad idea, but we can begin to stockpile slowly, adding more imperishable foods and essential supplies and gallons of water week by week. Online sources such as www.fluwikie.com/ pmwiki.php? n=Consequences.Prevention can provide guidance, as can books like those referenced below. Practicing basic hygiene will also make a major difference: e.g., covering coughs or sneezes by burying your face in the crook of your arm; washing hands thoroughly and frequently; avoiding touching eyes, nose, and mouth; adding bleach to dish and laundry water; boiling drinking water, and the like. Learning to care for persons not desperately ill can also be lifesaving. And, of course, being informed and prepared also serves to reduce fear.
Psychological and spiritual preparation is equally important. How does one deal with chronic fear? with acute fear? How does one cultivate the perfect love that, in the words of I John 4:18, casts out fear? Practically, how does one balance self-care and service? Certainly those who listen closely to the Spirit, spending daily time in prayer and/or meditation, will be in the best position to find answers to ultimate questions, to find God in dark times and live out God's love. Some may find a new relevance in the prayer taught by Jesus to his followers, who lived under a somewhat comparable shadow of hunger, illness, and (imperial) violence: "Father [Mother], May your rule of justice come. May your loving will be done on earth as in heaven. Give us the food we need for today. Forgive us our sins, as we forgive those who sin against us. Do not bring us to the test, but deliver us from evil."
"Hope" is the thing with feathers—
That perches in the soul—
And sings the tune without the words—
And never stops—at all . . . .
--Gracia Fay Ellwood
Based on Bird Flu: A Virus of Our Own Hatching by Michael Greger,
The Monster at Our Door by Mike Davis, The Bird Flu Preparedness Planner by Grattan Woodson, The Great Influenza by John M. Barry,
and online sources. Poem stanza by Emily Dickinson.