Guest Editorial: Going With the Foe
By Clark Tibbets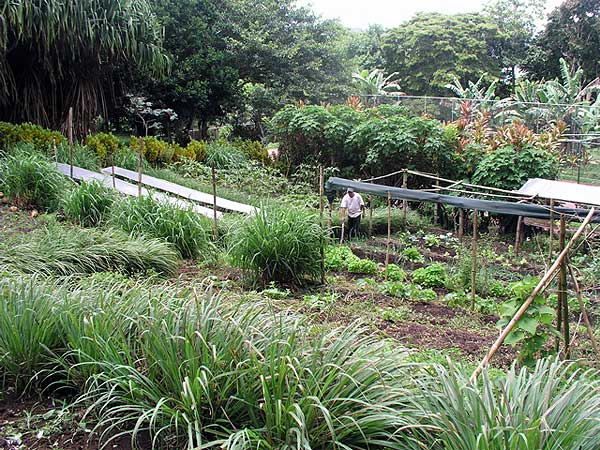 It's a cool and sunny fall afternoon, three weeks after the first frost. I am just in from the garden with smudged knees, warm back, basket brimming with perfect ripe red raspberries, and a lesson for living in the hip pocket where I usually keep my wallet.
The Beetle Battle
Japanese beetles have been my number one garden foe ever since the import quotas were relaxed. I squeezed them between my fingers in the beginning until the stain would no longer wash away. Then I turned to the neater and--I told my son--more humane trick of gently nudging them off the leaves into a cup partly filled with water. I soon switched to gasoline in the cup for a quicker kill.
I made my daily round of the long raspberry row in the dewy morning when sleepy beetles were slow to fly. I wanted to be sure of getting them all--of course, I didn't. By midsummer they were usually stacked two and three deep on the tips of the canes and I often had to add a dusk patrol to keep up with them.
After a few years of this, it occurred to me that it would be cheaper, not counting my time, to enlist bacterial agents in this battle--the price of gasoline had been going up. So, I invested thirty-some dollars in a treatment for the grass around the row. If those pricey germs did any good, I couldn't see it. I continued with cup in hand while waiting through two seasons for the infection to spread. There seemed to be as many beetles as ever.
Foiled Again
Last summer, after seeing no light at the end of the tunnel, I gave up. I tried to avoid looking at that part of the garden, but when I did mistake a glance, I saw them massed on the leaves like spots on dominoes. I worried about which of my prized vegetable plots they would take over next. After the frost, I forgot about them.
I almost forgot about the raspberries, too, until today, when I noticed clusters of red jewels sparkling in the sunshine. It is a great crop, with the heavy canes bowed over to the ground. I had assumed that the beetles took lunch breaks between their long sessions of lovemaking and that they ate with the same vigor as they copulated. Not so! There are some shredded leaves, but the plants are healthy and their yields unyielding.
We Have Met the Enemy . . . .
Why am I so surprised? I have learned this lesson before. I am remembering the time eight years ago that I first saw rat holes in my compost pile. Even my neighbors were worried then. I didn't know what to do, so I decided to do nothing until I might be confronted with evidence that they were doing some harm to the garden or invading the house.
Over the following years, I rarely saw a rat beyond the shadow of the pile. Sometimes a pink nose and squinty eyes would peek out from a hole and look me over as I tossed them their dinner. About the only time they came out was when it rained. Maybe their scents didn't carry then and they felt safer. Anyway, they didn't seem to have any purpose in coming out other than perhaps to be rinsed off.
I actually enjoyed their rainy day frolics and appreciated the work they were doing for me by digesting food scraps, adding manure and aerating the compost. Rats, like bears and some other mammals, must have some way to regulate reproduction to match the available food supply, because they have never overflowed my single large pile.
I use a cool composting technique with just one turning of the pile after two or three months. When it is turning time, I do the top half and then wait a week or two to give the rats time to move over into the new pile where the fresh food scraps are placed. Finally, I turn the rest of the old pile to the top of the new one. Each time, I open up a maze of tunnels but have never poked a rat with my fork.
I hope I never do.
Reprinted from The Friendly Vegetarian, Summer 1994
Subtitles Added
Note: Agribusiness giants. who have many acres planted in the same crop, often on degraded soil, find that plant-eating insects multiply out of control. Most owners then reach for poisons, thus endangering farm workers, consumers, and the planet. The proliferation of the beetles is limited in Friend Clark's garden because bordering his raspberries are other kinds of plants not susceptible to the beetles, and because his soil is rich and his plants vital and healthy. He follows nature's way.