Editorial: Save the Quakers!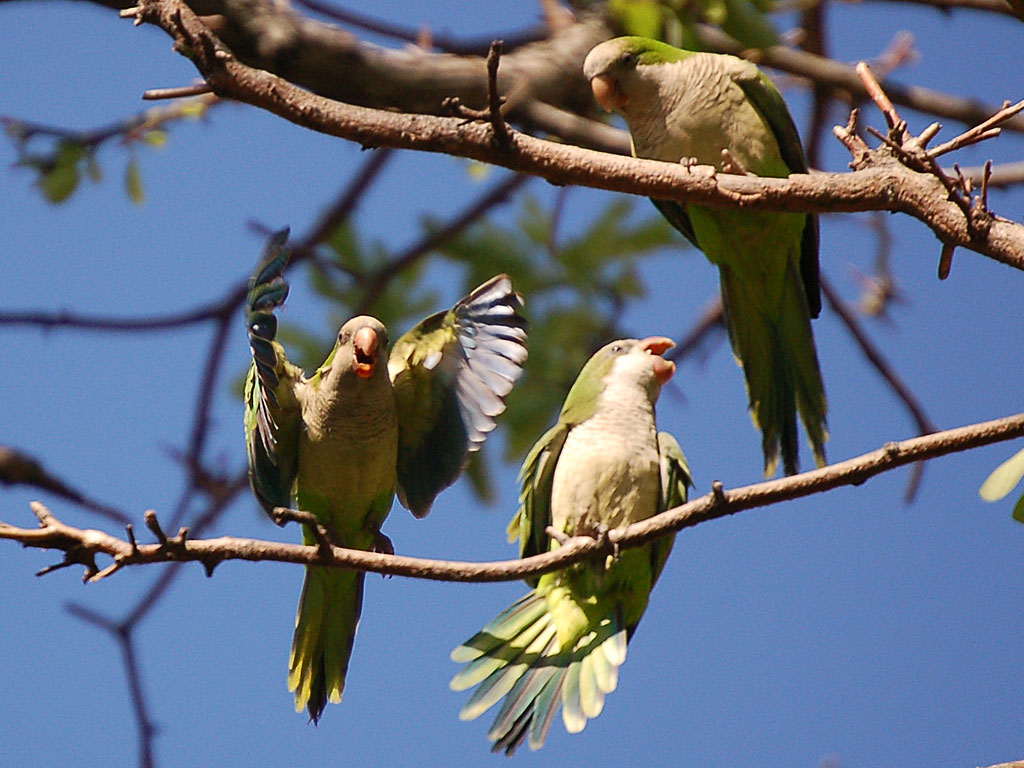 I have been a Friend since 1979, and until recently, I thought I was fairly knowledgeable about Quakers. But what I didn't know was that there are Quakers who hail originally from Argentina, live in extended families, are appropriately friendly, are by preference vegan (!), wear gray but usually also green and sometimes yellow and touches of blue, and are more given to talking than to silence. They also have wings, beaks, and tails, and are variously referred to as Quaker Parrots, Monk Parrots, Quaker Parakeets, or Grey-Breasted Parakeets. Their (human) friends often call them just Quakers.
Where the Heart Is
Because Quakers originally come from a temperate climate with cold winters, Quakers' nests are built not only for incubating and raising their young in the spring, but also for shelter year-round, especially in cold weather. These are architecturally-complex communal dwellings with numbers of round entrances and exits, perhaps like an airborne Brandy Hall, the many-tunneled dwelling where several generations of Brandybuck hobbits in The Lord of the Rings lived in (comparative) peace together.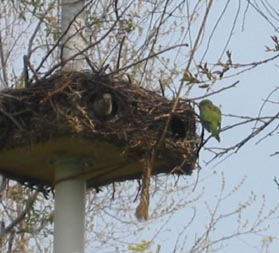 These avian Quakers came to my attention via a mailing from In Defense of Animals (IDA). Matt Rossell, an IDA coordinator, is involved with other advocates in an effort to save a community of Quakers near the little logging town of Yacolt, Washington. Quakers find the top of utility poles to be good places for nest-building, a practice that unfortunately can lead to power outages and electrical fires. From the viewpoint of Clark Public Utilities (CPU), they were nothing but a danger to the (human) public's safety and comfort. One night last November, the CPU destroyed one of the Quakers' homes and killed three of the residents; the others escaped. According to local activist Nick Peck, a great deal of bad publicity resulted from this act, and CPU has been consulting with Yacolt activists and city authorities to work out a solution. Some of these activists have been providing the homeless parrots with food, and are making platforms not far from the original site, on which the Quakers can build new nests. Outside activists got involved; some offered helpful plans, whereas others, by attacking the CPU with hate e-mail, have made matters more difficult.
The View From "Below"
We of the Animal Kinship Committee, sponsors of The Peaceable Table, are committed to "taking the view from below," i.e., putting ourselves in the place of our animal cousins who are under the human boot, and speaking on their behalf. (In the case of Quaker parrots, the view from below may literally be the view from atop the electrical power pole, but the vulnerability of the animal victims is the same.) We have gotten into the habit of identifying with all animals, both in their joys and in their suffering. But when a particular species of animal is repeatedly referred to simply by the name of our own religious group, the identification is heightened; the view from below (or above) comes into even sharper focus. The emotional effect of reading about them is, by turns, amusing, surprising, and disturbing.
For example: from two websites I learned that "Quakers are very confident and social . . . . They are known around the world for their exceptional talking ability. . . . Most hand fed Quakers are quite gentle and many make wonderful pets . . . ." "Quakers are known to be extremely good eaters. They thrive on fresh fruits and vegetables . . . . Some Quakers tend to become overweight if allowed to indulge in too many fattening . . . treats, so be sure to offer your Quaker fresh greens, legumes, pasta, and other vegetables as a main food source." (Not such bad advice for Quaker humans, either!) "Quakers are active, inquisitive, mischievous, intelligent, playful, and engaging . . . . Keeping Quakers entertained will keep their minds off inappropriate activities." "Many Quakers sing songs and pick up extensive vocabularies. Most Quakers learn to talk at about six months. They speak quite clearly and use their skills most appropriately." (We try!)
Some of the references were not so amusing. "Quakers . . . . usually are easily available and are, therefore, relatively inexpensive (in the $150 range)." The reader is encouraged to "purchas[e] a handfed, well-socialized baby" for best results. Even more ominous, in some states there are laws against Quakers; Washington is not the only state in which a Quaker (though not illegal there) may find herself avis non grata. Because Quakers living in extended families in the wild not only have a habit of taking over power poles, but may eat crops that humans intend to make money by, they are banned in California, Georgia, Kansas, Kentucky, Hawaii, New Jersey, Pennsylvania (alas!), Tennessee, and Wyoming. Specifically, laws prohibit selling or owning them there. Other states have restrictions on importing or breeding them. In some states, a Quaker seized by the authorities may be "euthanized," i.e., executed, legally murdered. In Connecticut in '05 and '06, many nests were destroyed and many Quakers deliberately killed. Echoes of Boston in the 1660s, and of the martyred Mary Dyer, Marmaduke Stephenson, and William Robinson . . . .
Pet Quakers and Other Animals
Although the Friendly reader is relieved to read that avian Quakers are "mechanically inclined" and thus "able to figure out most cage locks in no time," the idea of oneself being bought and sold, having one's baby taken away and sold, and being put into a cage even part of the time until one is taken out to play with one's owner, is not language to warm the heart. Of course this is not on the same level as the kidnapping of the terrified baby calf from his anguished mother, to be shut up in a cage in darkness until being dragged out to death. Probably most of these pet Quakers are much cherished, and cherish their people. But no human wants to be owned, to be bought and sold or have family members sold away, and few adult humans would want to be pets. Avian Quakers, like their human counterparts, should at least have the option of giving their primary love to a mate and family of their own kind; and they should have a right to their own agendas. Another factor is that a certain percentage of pets of any kind are neglected and/or abused and suffer greatly, something that will appear with any sociological pattern of great power imbalance.
Changing the language--"pet" to "animal companion" or "animal friend" does make a difference, partly because it spotlights the two most troubling aspects of petkeeping as it stands. One is the issue of monetary exchange. One cannot buy a friend; one does not procure a friend by breaking up her or his family. The echoes of slavery are too strong. Furthermore, one does not abuse a friend or neglect essential responsibilities for her or his welfare. True, such things would sometimes still happen even with a widespread acceptance of the new language, but at least the language would tend to curb it rather than allow for it.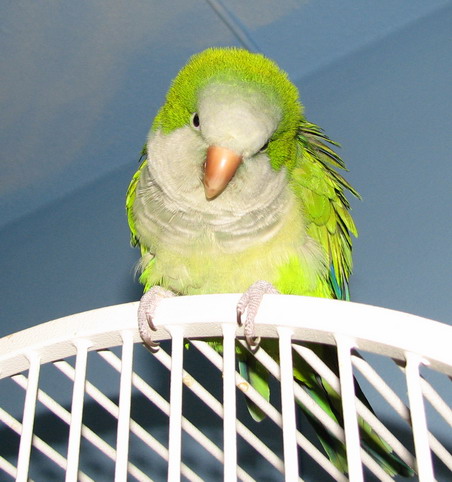 Much as I would enjoy having an avian Quaker to live with me, it will almost surely not happen: because I live in California, because I am not in a position to take in a refugee from a decimated nest, and because I don't want to buy or sell any sentient being, or accept one that has been abducted from her or his family. (A "purchase" that is really ransom from an abusive situation is different.) This is not a rejection of living with animal friends per se, especially in view of the huge numbers, especially of cats and dogs, that are unwanted and unable to provide for themselves in a city setting.
Speaking Up for Quakers and Other Animals
Some activists, who had had a bitter experience dealing with a recalcitrant power company in their own area, responded to Yacolt's situation with hate-mail, as we saw above. Probably all of us know how it feels to share the anguish of innocent beings undergoing violence, to try to change things, and find ourselves blocked. The temptation to give in to verbal violence in return feels overwhelming, and may grow as one encounters similar situations. But just as this response has made the problem in Yacolt harder to solve, it is almost guaranteed to do so anywhere. The fact is that a person who is unthinkingly participating in a cultural evil--whether it is a diner consuming meat or an electrical company employee destroying a nest under a supervisor's instructions--will grow much more defensive under a verbal assault than an approach that assumes they have consciences and are potential allies. It is true that there are people who deaden their consciences, whether approached sympathetically or abrasively. Whatever the case, returning violence for violence is not an option for any of us who seek to open ourselves to the Divine Light within us, and to answer the Light that we believe dwells in every being. The Light is also Love: and only by love, brave and persistent, can the work of Love be done.
--Gracia Fay Ellwood