Guest Editorial: A Glimpse of the Peaceable Kingdom
by Rina Deych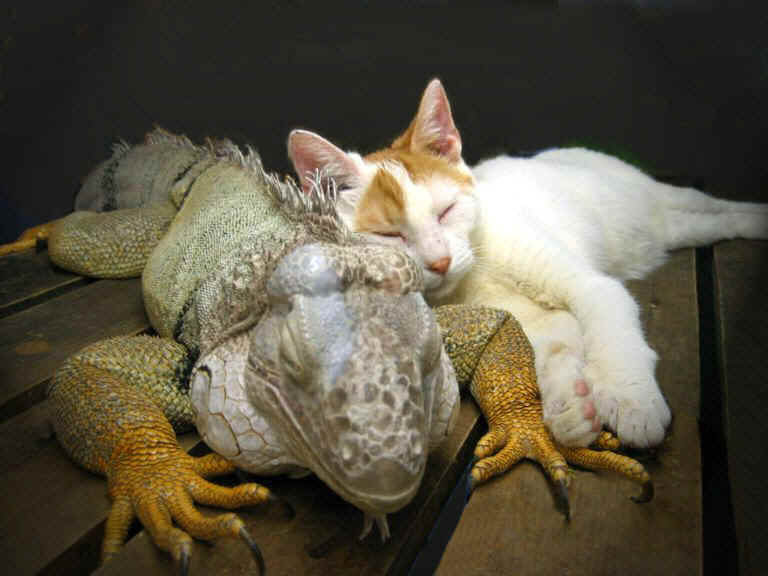 If I believed in destiny, I'd swear it was destined for me to cross paths--or rather join paths--with an iguana.

I always had a fascination with lizards, dinosaurs, and dragons, and, in fact, painted many on tee shirts, school bags, and guitar straps. As a teenager I had a recurring dream that, while walking up the block to my house, I found a little dragon. I dreamt I brought him home and named him "Puff." My little Puff, so real I could actually feel his scaly skin, was sweet and gentle. Another example: I'd been thinking about getting a lizard tattoo for many years. Finally, about 15 years ago, I had an iguana tattooed on my chest by the famous Spider Webb.

Then, in the late summer of 1999, my chiropractor, Dr. Scott Schwager, found a young iguana sauntering down a sidewalk in Brooklyn. Had he been abandoned by his "owner?" Had he escaped from a window? He didn't tell his story. As Dr. Schwager chased him, the lizard picked up speed.
After an exhaustive chase, with the help of some friends, the chiropractor--a compassionate person who realized the creature could not survive in this climate in an urban setting--managed to catch him and bring him into his office. When the doctor's wife saw the thirteen-inch lizard, she screamed "You're not bringing that THING in here!"

They both looked at each other and said "Rina."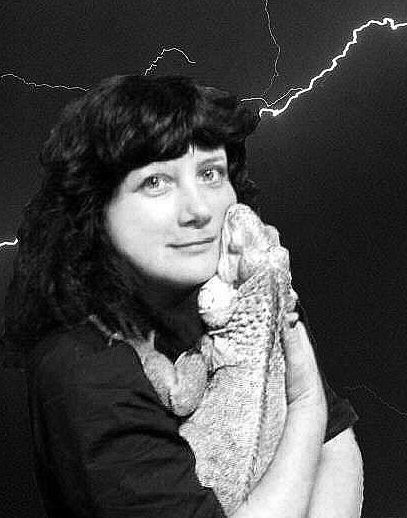 I went over to pick him up and fell instantly in love with him. I named him Sobe, after the iced tea with the lizards on the bottle. Over the years I had taken in various homeless cats, dogs, and birds, but I knew iguanas had rather different needs from those of my furry and feathered friends. After a quick search on the internet regarding the essentials of iguana care, and a phone call to Manhattan reptile rescuer Robert Shapiro, I went out to buy the necessary materials: an enclosure, ultraviolet lights, humidifier, ceramic heaters.
When he started to really grow (he is now almost five feet long from his nose to the tip of his tail), I had my (then) boyfriend build an 8'x8'x4' wood-frame Plexiglas loft enclosure, with a photomural of greenery in the background, attached to a tree branch and cat "trees" for him to climb on.
Sobe has thrived. Thankfully, iguanas are vegan! Every morning, I make him a huge salad of collard, mustard, and dandelion greens, Swiss chard, bok choy, various squashes, beets, melon, apples, grapes, and pears. The diet must be balanced as follows: 40% green vegetables, 40% yellow, and 10% fruit. He also likes bread as an occasional treat. (Many humans I know could learn a thing or two from Sobe's fresh, nonviolent meals!) He stays in his "upstairs apartment" for several hours, basking in the heat of his lamps.

Then he is ready for his social life. He clambers down the tree branch and makes the rounds, visiting every animal resident in the house: dog, twelve cats, and two parrots! Sometimes he naps with one or another of the cats; occasionally Cato the parrot perches on Sobe's long tail, grooming him.

Impressive as Sobe's "international" friendliness was, the most remarkable thing was yet to come. One day in the summer of 2003 I found an emaciated white-and-ginger kitten outside my house in terrible condition, more dead than alive. He was suffering from pneumonia, severe infections in both eyes (one of them already opaque from ulceration), ear infections, hair loss and lesions due to innumerable flea bites. At once I drove him to my vet, who thought he was hopeless and recommended euthanizing him.

But I had a funny feeling about this cat. I just felt with some de-worming, de-fleaing, and antibiotics, he'd be okay. The feeling turned out to be right. I wanted to name him "Popeye" because of his huge opaque eye that looked like it was going to pop out. My son, furious with this suggestion, said "That's disgraceful! Give him a dignified name." So I named him Johann, after my favorite composer, J.S. Bach.
As Johann began to recover, I introduced him to everybody's friendly neighbor from "upstairs." The first scene was not promising: Sobe immediately puffed himself up, preparing to defend his territory. But the kitten, despite all he had gone through, had no fear. He tried to snuggle up to the formidable-looking beast! Faced with this "love your enemy" approach, and a little gentle coaxing and guidance from me, Sobe soon calmed down, and his bluster melted away. Within an hour he had accepted Johann's friendship. And what a friendship it has turned out to be! Supremely loyal, this David-and-Jonathan pair hang out together, nuzzle one another, and sleep cuddled together.

When the story of the remarkable friendship of Mzee the giant tortoise and Owen, the baby hippo orphaned by the tsunami of 2004 was broadcast, BBC photographer Peter Greste was quoted as saying that this hippo-tortoise friendship was the first scientists had seen of a mammal and reptile bonding. I contacted him and told him "That's because these scientists haven't been to my house." I sent some photos of the odd couple to Mr. Greste, and to Dr. Paula Kahumbu, the manager of Haller Park Animal Sanctuary in Kenya who took Owen in. Mr. Greste's gracious response was "Even BBC journalists occasionally get it wrong." He went on: "Thanks for forwarding your website. The photos are really extraordinary." Dr. Kahumbu indicated she was eager to share the photos with her colleagues.
I believe that with love anything is possible. A friend of mine has a theory that the reason the animals I live with get along so well is that they have "species confusion." Maybe if our own species had a little of that, we'd have
a more peaceful, sustainable planet.
In some persons, a certain dimension of the Inner Light/Love is developed to the point that they seem to have around them a powerful field that affects animals, awakening in them a sense of the inter-species peace of the hidden Paradise. This may be the case with the author of this essay.--Editor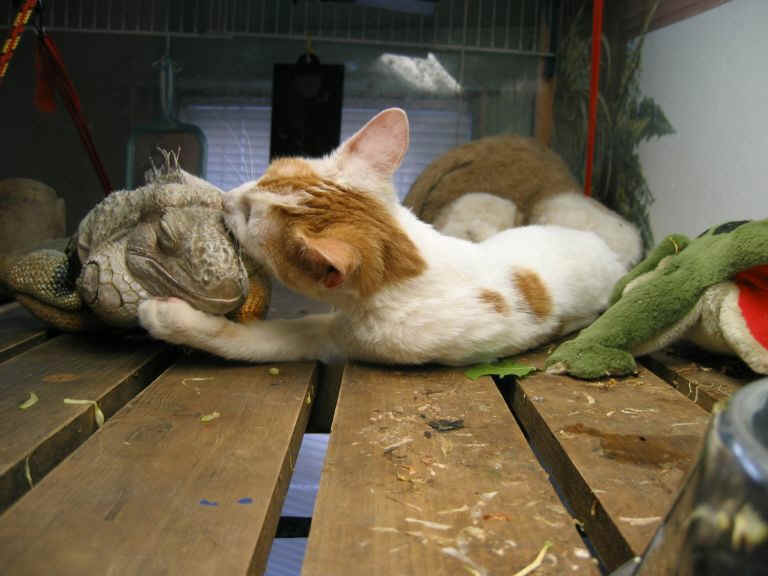 Photo of Rina and Sobe by Julian Deych. Photos of Johann and Sobe by Rina Deych. The lead photo won PETA's 2005 contest for pictures of rescued animals.
Letter
I want to tell you how much I continue to enjoy The Peaceable Table. But I especially wanted to say how deeply moved I was by Pam Ahern's feature article in the April issue. It is a stunning story about the full scope and the many forms of compassion, and I thank her so much for writing it, and you for printing it!

All best & many blessings,
Juli Maltagliati

Juli was profiled in "My Pilgimage" PT July '07