Guest Editorial
The Other Victims: Slaughterhouse Workers and Others Who Kill Animals
An Exploratory Essay by Rachel MacNair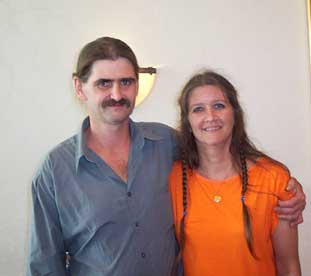 Virgil Butler, former Tyson employee, and his partner Laura Alexander
What is the effect of the act of killing on the human mind?

When I started out to study this topic, I knew "battle fatigue" was officially named Post-Traumatic Stress Disorder (PTSD). The diagnosis started with combat veterans, and then expanded to all kinds of victims. The notion that being an active participant in the violent situation can lead to PTSD is fairly new, even for combat veterans. I pulled together evidence using the U.S. government's own data on its veterans of its war in Vietnam. I found that those who said they had killed had more severe PTSD symptoms than the other veterans in the study, even when taking the intensity of battle into account. Those that had been directly involved in killing civilians or prisoners had more severe symptoms than those who only saw such things take place. I've also dug up some evidence that this applies to people who carry out executions, police who shoot in the line of duty, Nazis, criminal homicide, and a variety of other situations.
So what about the killing of animals? I did talk once to a fellow peace movement activist who had worked in a slaughterhouse, and he affirmed the traumatic symptoms I mentioned without wanting to give any more detail. A similar example is the account of Virgil Butler, the ex-chicken-slaughterer who, with the help of his partner Laura Alexander, became an animal activist (http://www.upc-online.org/fall04/virgil.htm.) Two cases are not enough to prove anything, but we do know the accident rate is higher than in other forms of factories. The speed of the disassembly line, the sharp knives used, and the struggles of the animals no doubt are major factors in accounting for this accident rate. But it is consistent with the idea that workers suffer PTSD symptoms such as emotional numbing and detachment from others. To really know, we'd need a study comparing trauma symptoms in slaughterhouse workers to workers in, say, a peach-canning factory, or something along those lines.

Furthermore, slaughterhouse workers tend to be poorly paid, to be drawn from among vulnerable immigrants who have little other employment choice, and to have an unusually high turnover rate. Theoretically, there could be changes to pay them more equitably, reduce the speed of the lines, and otherwise improve working conditions; but as long as the management is in a position to exploit vulnerable workers, such changes are unlikely. In any case, without a change in the essential nature of the work, the killing of animals, then what may be the most traumatic aspect cannot be removed.

Euthanizing of animals in shelters has been reported as a trauma for the staff. This was reported in Psychology Today: "Shelter workers who have to euthanize animals as a regular part of their jobs suffer a wide range of distressing reactions, including grief, anger, nightmares and depression, according to a study I conducted with a fellow social worker . . . .[comments include] ' I have a lot of sleepless nights, a lot of crying' . . . 'I've had breakdowns in the euthanasia room because I feel so helpless' . . ." (Psychology Today, Nov/Dec 1998, page 10). Of course, people selected this employment because of a love of animals, making such symptoms of distress more predictable.

In a report on 60 Minutes (air date January 11, 1998), a Spanish bullfighter said he dreams of bullfighting every night. That's a possible post-trauma symptom – dreams that repeat the trauma and are intrusive and unshakeable. The bullfighter identifies it as possibly a trauma by mentioning that tennis players don't have the same problem because they're not in danger of death. This does complicate perpetration with risk to one's own life, but the risk is chosen. This bullfighter raises bulls himself, and when asked if it made him sad to think of those bulls dying in the ring he said, "You know every -- each bull that I -- that I fight and kill him, he's a -- he's a part of you for the rest of your life. You understand that?" This suggests other intrusive symptoms to go along with the dreams.

It may seem odd to think of something people do more or less voluntarily as being traumatic to them, but Friends and indeed all peace activists to whom I have ever brought this up show that they immediately understand how it applies to combat veterans. There seems to be enough evidence that to some extent, this may apply to killing animals as well.

To some Friends and other well-intentioned persons, the knowledge of the harm it may do to slaughterhouse workers to kill animals could actually bring about a change of heart more effectively than knowledge of the harm done to the animals themselves This may be a path of study worth pursuing for spreading the message of what a nonviolent diet means.
For more information see:
This web page gives a basic explanation, including all symptoms, and links to more details.
Book:
MacNair, Rachel. Perpetration-Induced Traumatic Stress: The Psychological Consequences of Killing . Westport, CT: Praeger, (Available from Barnes & Noble for reduced price.)

Gems
Violence is a method whereby the ruthless few can subdue the passive many. Nonviolence is a means by which the active many can overcome the ruthless few.
--Jonathan Schell, The Unconquerable World
For even saintly folk will act like sinners
Unless they have their customary dinners.
--Bertolt Brecht, The Threepenny Opera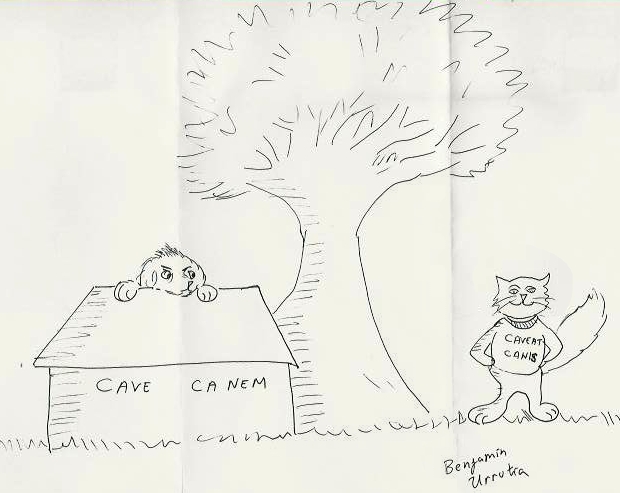 With apologies to the Latin-literate--Cave Canem: Beware the Dog. Caveat Canis: Let the Dog Beware.
Letter
Dear Friends,
Thanks very much for sending issues 18, 45, and 50 of The Friendly Vegetarian [during the summer of 1994 mail sent to me was returned to sender]; that's like a walk down Memory Lane with old friends. I corresponded with Barry Zalph until he passed away, then with Roshan Dinshah, who was also a prison chaplain in New Jersey. . . . . The Friendly Vegetarian (FV) was a great publication, and The Peaceable Table's mission to resume witness is noble indeed.
FV and correspondence with Barry and Roshan were helpful in an era when Florida prisoners had no consistent vegan options. When, at Avon Park Correctional Institute, the (ex-)chaplain told me to eat meat or starve, that led to litigation which successfully established vegan options for all Florida prisoners. However, that option has since been unconstitutionally eroded . . . another round of litigation has been ripening ever since. . . .
Late last night I was happy to receive the June-July issue of PT. Thank you very much for sending it. I value George Fox's expression of his experience of paradise, and your editorial. "The kingdom of God is within you," Jesus says, and I always like reading and hearing of personal visions of that truth . . . . I appreciate your expressions of it, as well as this entire issue of the beautiful PT.
--Gerald Niles 122280
A1108L
Graceville Correctional Inst.
5168 Ezell Road, Graceville, FL 32440
Gerald Niles welcomes correspondence with readers of PT. Barry Zalph and Roshan Dinshah were on the staff of FV. For more information about FV see the fine print at the end of this issue.
Seeing-Eye Cat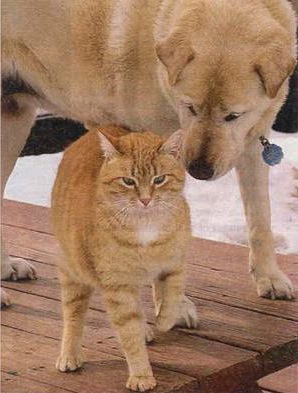 Terry Burns of Middleburg, Pennsylvania tells that Cashew, her blind and deaf Labrador dog-friend, has a seeing-eye cat-friend, seven-year-old Libby. On almost 24-hour duty, Libby steers Cashew away from obstacles and leads her to her food; at night she sleeps next to Cashew. The only time they are apart is when Cashew is taken out for her walk. Clearly, without Libby Cashew would be lost and very lonely.
--Contributed by Virginia Iris Holmes
Libby is able to see physically on behalf of Cashew because she sees spiritually the Hidden Unity that makes them Friends on the deepest level. How ironic that a supposedly lesser being can perceive and act upon a spiritual reality that some of the "lords of creation" deny when they claim the right to eat their fellow animals . . .