Editorial: Save the Day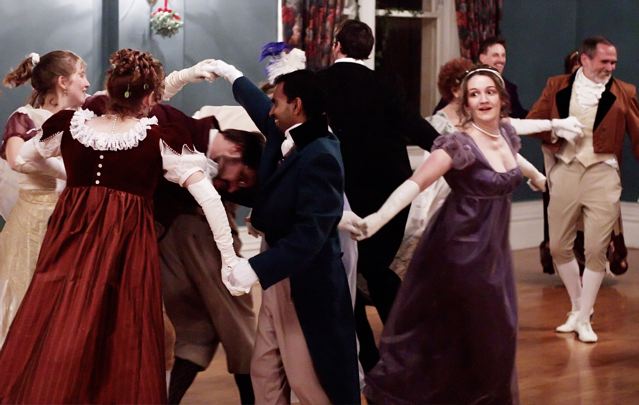 It may come as a surprise to some that there was a period in the nineteenth century in which the survival of Christmas in urban life was doubtful. For centuries in Europe it had been a village celebration extending over several days or weeks, a combination of Christian and pagan religious images, ideas, and practices, varying from place to place, at once changing and relatively stable. But as a result of the mass migrations to cities caused by the industrial revolution and other factors in the late eighteenth and early nineteenth centuries, many people became rootless, losing much of the extended-family and village culture that had given meaning to their lives. And Christmas observance seemed among the many elements of their past life about to erode away. In Dickens' 1843 Christmas Carol, set in such an industrial city, we see that both Bob Cratchit's notorious employer Scrooge, and his daughter Martha's employer, are reluctant to give them even one full day off to celebrate--forget about twelve days. It's not good business.
Dickens' Christmas
The portrayal of Christmas in the Carol by those unbusinesslike people who still keep it differs significantly from the main emphases today. Present-giving is a relatively minor theme in the novella: we see it in only one scene, in which the husband of Scrooge's former fiancée Belle comes home with toys for their children. Christmas giving centers rather on sharing one's bounty in the form of donations of food and money to help the poor; it is part and parcel of the major theme of warmth and abundance for all. Dickens' Christmas means families and friends and perhaps abused apprentices from down the street gathering to play children's games, dance, feast, and sing around roaring fires that defy the darkness and the cold. Little is said explicitly about the Bethlehem stories, but the theme of the Child--vulnerable yet life-giving and joy-giving--permeates the story, whose plot climaxes with Scrooge's transformation on Christmas morning, as he turns somersaults and compares himself to a newborn baby.
Unhappily, the themes of new life, conviviality, and joy do not extend to our animal cousins, who have cameo roles as draught-slaves or fur trim on clothing, and "starring" roles as corpses being devoured. The big to-do about Scrooge's anonymous gift of a giant turkey-carcass to the Cratchits--happily given and ecstatically received--is of a piece with the charnel-house array among the tasty items of real food at the feet of the Ghost of Christmas Present. "[T]urkeys, geese, game, poultry, brawn, great joints of meat, sucking-pigs, long wreaths of sausages . . . ." together with the apples, oranges, nuts, cakes, and steaming punch, are all expected to whet one's appetite for the feast. They are more likely to create confused responses in awakened readers, who, in the midst of their applause for generosity and fun, will shudder at these reminders of merciless violence against the defenseless. Dickens' Christmas is indeed "a kind, forgiving, charitable, pleasant time," but also--as the bereaved goose cries out in Babe--"Christmas is carnage!"
Death, New Life, and Animals
As familiar as the story is, its looming themes of death and ghosts are not what we tend to associate with Christmas. But the fact is that traditionally Christmastide, and Yule before it, were seen as one of the in-between periods of the year, the boundary times (like midnight) when the borders between worlds grew thin and porous. Both unquiet ghosts and powerful angels (and perhaps pixies, elves, elementals et al.) were close at hand, and likely to be involved in human affairs. Most humans might not see them, and a few did not believe in them; but ghost stories told around the fire--with accompanying shivers of fear, delight, or both--were long one of the staples of the season.
A quick survey of Christian customs of Christmastide from former centuries, and their pagan forbears, suggests not only that animal themes are persistent, but that this duality--violence and/or death on the one hand, awe and joy in the presence of Something life-giving on the other--appears in the animal theme itself. On the grim side: St. Martin's Day in November was once a time not only of bonfires and feasting but of killing enslaved animals--cattle, pigs, geese--sometimes sprinkling their blood on the threshold. St. Andrew's day some weeks later was celebrated by hunting, killing, and feasting on squirrels. A medieval Christmas practice involved a pack of young men, their faces blackened, going out with cudgels to find and kill a wren, whose feathers would be shared out among the villagers, and his or her body ceremonially buried. Ordinarily the wren was considered to be sacred, so the event, intended to bring good luck for the coming year, clearly partook of the nature of sacrifice. A distant ancestor of our benign Santa Claus with his reindeer-drawn sleigh and elves (via his grandfather, St. Nicholas on his white horse) seems to have been the Norse God Odin on his powerful eight-legged horse, accompanied by his hound, leading across the sky the feared Wild Hunt that draws in the ghosts of the dead--the same Odin to whom horses were sacrificed.
But other Christmas themes presented animals as participating in the Edenic harmony that touched earth at this sacred time. A medieval legend has ordinary stabled animals gaining the ability to speak on Christmas Eve midnight, as they participate in the power of history's pivotal Event in the Bethlehem stable. A variant of this idea appears in a pictured scene of forest animals, on that same night, all lying harmoniously together in a Peaceable Kingdom. The quotation from Hamlet in this month's Poetry section gives another such picture of supernatural Christmastide wonder and power manifesting in a bird's song. A further echo of this theme appears in Thomas Hardy's "The Darkling Thrush," whose song, so joyous amidst the bleak, dying landscape, seems to express some "blessed Hope" the human narrator does not know.
Thus in the tradition we humans are simultaneously telling animals "You are beings spiritually attuned, perhaps even more deeply than we, to God's lifegiving work among us," and "You are mere things, to be crushed and devoured, in order to heighten the pleasures and the energy of the festival." Something here doesn't quite fit! At one time the sacrificial element made a meaningful connection, since violent sacrifice has long been thought to bring about renewal. But it is very hard to establish that this does indeed work--and there is much evidence that violence leads to psychic numbing and more violence. The killing of animals today, however, is not even sacrificial, but is done explicitly for the sake of perceived human pleasure.
To Purify Christmas
Animal defenders have been trying to be heard on this issue for a considerable time, but unfortunately, our message tends to be classed with that of Christmas critics of yesteryear, specifically, Puritans and, yes,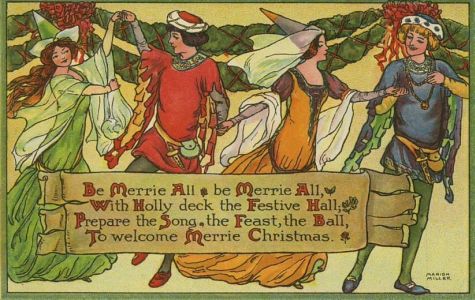 Quakers. Both saw serious problems (such as pagan roots, carousing excesses, and immoral behavior) with Christmas celebrations; sadly, the bloodshed involved wasn't among their complaints. Their solution was to wipe the day off their calendars altogether. Early Quakers' objections to Christmas have long passed out of general notice, but Puritanism is, somewhat unfairly, still equated with a joykilling asceticism that defenders of flesh-eating are ready to find in the motivations of animal defenders, whether it is really there or not.
It helps if we acknowledge that their objections to our critique of Christmas probably have a deeper basis than taste buds. Anything that sounds like an attempt to demolish a holiday/holy-day is likely to awaken profound anxieties that one's roots are being cut, that the meaningfulness of one's way of life, indeed, one's whole spiritual/cultural world, is under threat. (More about this in a later PT.)
What we seek to end is, of course, not Christmas or any other celebration, but the institution of animal slavery and killing that stains it. That change is even more radical, but we know that, far from destroying our whole cultural world, it would in fact help to save it from the ecological menace that hangs over us, and probably hasten spiritual evolution as well. But if we are to make headway in our attempts to bring about such genuine, compassionate, life-giving change, it is important that we work to defuse people's anxieties about losing Christmas and all that such celebrations mean to them. Those of us of who are Christian do well to accompany our message of a cruelty-free meal by actively affirming all that is positive in our tradition (implicitly supporting, not putting down, other faiths). Unlike so many aspects of abolitionism , this affirming work is a joy.
Reclaiming Christmas Treasures
The Christmas Carol itself offers us concrete suggestions here. The feast will always be important: vegetarianism does not mean scarcity, as many fear, but greater abundance, with greater aliveness. Furthermore, by ending its violence, abolitionists of Christian roots are affirming the life-giving side of the Christmas animal-theme, in particular, the founding story of the beasts in the stable standing in awe around the holy Child. We are also finding unsuspected depths inherent in the angelic blessing "Peace on Earth." Our present culture's unbalanced emphasis on individual gift-giving can be limited by a firm spending cap (the economic recession has already effected this for many), and instead stressing charitable giving and what might be called justice-giving, as shown in the story. Exploitation, neediness and suffering have certainly not gone away since 1843.
But we also need to have fun, as the Cratchit family, Fred and his wife and friends, and Fezziwig and his family and protégés all did at their parties. And fun need not cost much. We can go back to playing intergenerational games, whether they be the blind-man's-buff that the Cratchits and Fred's friends played, musical chairs, charades, or whatever memory calls up. (At my home Meeting we play such games each fall to kick off the First-Day school year; it's energizing and enjoyable for all ages.) If a large space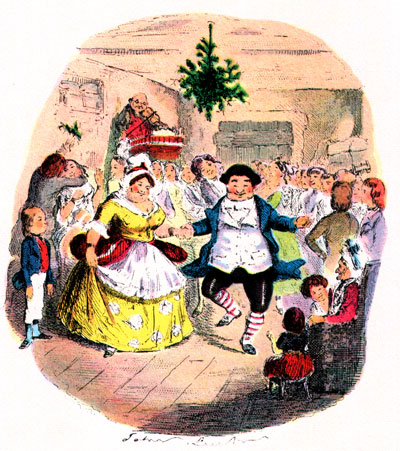 is available, group dancing is a wonderful way to celebrate, and many circle dances are easy to learn. "Sir Roger de Coverley," the line dance happily if clumsily done at Fezziwig's ball, is quickly learned: see instructions at Sir Roger , and a clip of the dance being performed at Dance . Singing carols around the fire as the Cratchits did is another joyous thing--and if the party site is uncooperative, one can always do without the fire!
We have seen that the tradition of telling ghost stories is represented in the whole plot of the Carol; but the Carol is really more an angel story. It involves Marley and other unhappy ghosts, to be sure, but centers on the three powerful, angel-like Ghosts of Christmas Past, Present, and Yet to Come, who all (even the fearsome third one) appear with the compassionate purpose of offering a life-transformation to Scrooge. This story-telling element can be be revived in the form of telling present-day angel stories, of which many have become available, in print and online, in recent years. Those present may be pleasantly surprised to find that one or another of the guests have their own personal angel story to share.
Bringing new life to these old forms of merrymaking is important not only for the sake of an effective message, but for our own sakes as well. To celebrate the gifts of light and warmth and plenty in the (Northern Hemisphere's) darkest and coldest time of the year can awaken the Joy so deep that it may, as Tolkien says, lead to tears--"Joy beyond the walls of the world, poignant as grief." The new life from Elsewhere is brought into the here and now. Such celebration asserts that the infinite ocean of Love and Light flows over the ocean of darkness and death.
--Gracia Fay Ellwood
Sources: The Book of Christmas by Brendan LeHane (The Enchanted World series), and A Christmas Carol by Charles Dickens.
Unset Gems
To God belong the East and the West:
Whichever way you look, there is the Face of God.
--The Qur'an
"We are the most dangerous species of life on the planet, and every other species, even the earth itself, has cause to fear our power to exterminate. But we are also the only species which, when it chooses to do so, will go to great effort to save what it might destroy." ~Wallace Stegner in This is Dinosaur
--Contributed by Lorena Mucke
"The question is not 'can you make a difference?' You already do make a difference. It's just a matter of what kind of difference you want to make during your life on this planet."~ Julia Butterfly Hill
--Contributed by Lorena Mucke