Editorial: "Rise Peter, Kill and Eat"
by Robert Ellwood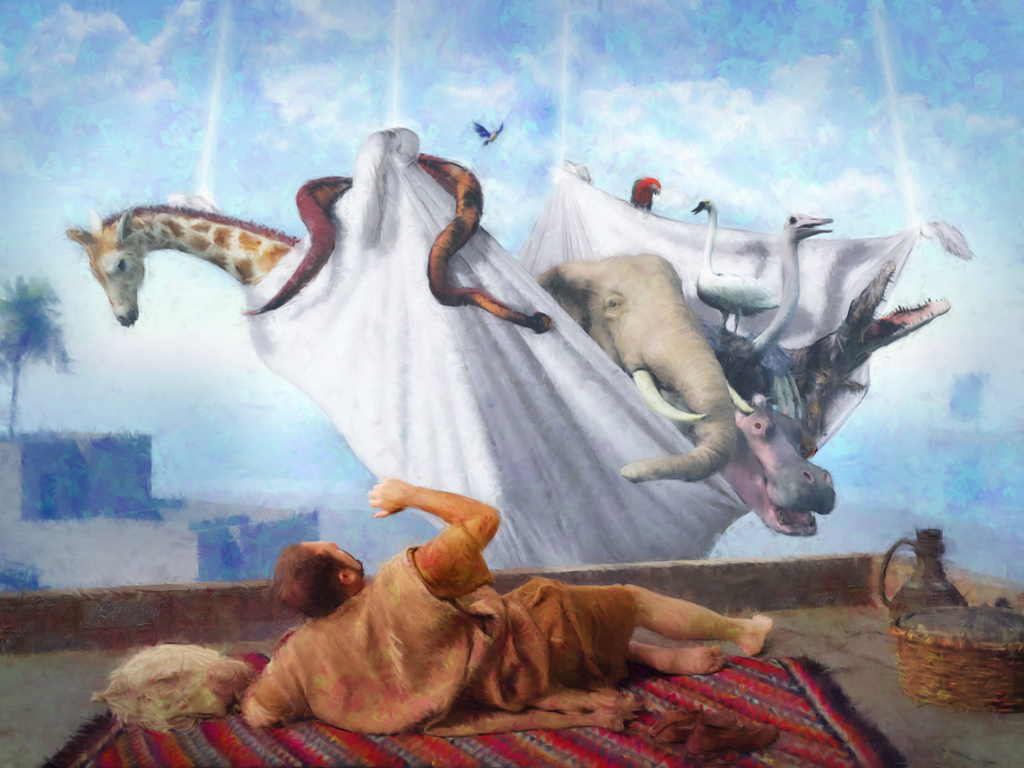 Among the biblical passages most likely to be presented to Christian vegetarians by unconvinced fellow Christians is the narrative in Acts, chapter 10, of Peter's relation with the Roman centurion Cornelius. It tells of the apostle's vision of a sheet lowered down from heaven containing all kinds of animals, including reptiles and birds, with the divine command, "Rise, Peter, kill and eat." The apparent message is that in doing so, Peter would be only doing God's will; therefore, consuming animal flesh must be no sin but rather in accord with the divine plan.

The Story
Let us look at the story in more detail. We are told that Cornelius was stationed in Caesarea, the Roman administrative capital of Palestine. Cornelius, as an officer of the "Italian Cohort," was probably a Roman citizen from Italy, and apparently a man of considerable means and influence. Moreover he was "a devout man who feared God with all his household, gave alms liberally to the people, and prayed constantly to God." As a "God-fearer," Cornelius was sympathetic to Judaism and the Jewish God, if not a full-fledged proselyte. (Considering the extreme brutality of Roman colonial rule, a centurion sympathetic to Judaism would have been comparable to an officer in the 1940s German Wehrmacht helping fugitive Jews. There weren't many.) This Cornelius received a vision telling him to invite to his house a man called Peter, who was then residing in nearby Joppa in the home of Simon, a tanner.

The next day, as the envoys from Cornelius were coming to summon Peter, the latter went onto the housetop to pray, and:
[He] became hungry and desired something to eat; but while they were preparing it, he fell into a trance and saw the heaven opened, and something descending, like a great sheet, let down by four corners upon the earth. In it were all kinds of animals and reptiles and birds of the air. And there came a voice to him, "Rise, Peter; kill and eat." But Peter said, "No, Lord; for I have never eaten anything that is common or unclean." And the voice came to him again a second time, "What God has cleansed, you must not call common." This happened three times, and the thing was taken up at once to heaven.
So when the men sent by the centurion arrived and delivered their message, Peter agreed to go with them. Finding many of the officer's relatives and close friends gathered in the house to hear him, Peter opened by saying:
"You yourselves know how unlawful it is for a Jew to associate with or to visit any one of another nation; but God has shown me that I should not call any man common or unclean. So when I was sent for, I came without objection. . . . Truly I perceive that God shows no partiality, but in every nation any one who fears him and does what is right is acceptable to him."
He then continued in his testimony to declare that God through Jesus Christ had opened the work of the Holy Spirit to all people who believe in him. When the Holy Spirit then came upon this assembly, Peter declared,
"Can any one forbid water for baptizing these people who have received the Holy Spirit just as we have?" "And he commanded them to be baptized in the name of Jesus Christ."

In the next chapter of Acts, we find that when Peter went up to Jerusalem to meet the elders of the church there, those of the strict "circumcision party" criticized him, saying, "Why did you go to the uncircumcised men and eat with them?" But the newly-enlightened evangelist repeated to them the story of the vision of the lowered sheet, and of his favorable experience with the Holy Spirit and baptism in the house of the believing Roman.

Questions for Today's Readers
Clearly the chief object of this episode is not to justify eating flesh, whether clean or unclean according to the Jewish law; in this dreamlike trance vision, it does not seem that Peter actually did kill and eat, but only got the metaphorical main message. The tripled image was obviously like a parable intended to justify taking the Good News equally to persons of all nations, Jew or Gentile, for God shows no favoritism. Nonetheless, vege-sceptics can hardly be faulted for seeing this story as, at first glance, divinely authorizing us to kill and eat any animal, kosher or not.

Nonetheless, there are certain questions one might wish to ask such critics. First: if the sheet contained dogs and cats, including your own companion animals, would you kill and eat them? There are nations in the world in which that would be quite acceptable. If you would draw the line there, you would -- in reverse, as it were -- be demarcating clean and unclean animals, saying some are too precious to devour. This would be acknowledging that our eating choices are cultural as well as generic.

Second, if the sheet contained a whole factory farm with its reeking, horrific conditions, would you kill and eat? One is hard put to see its poor filth-caked victims as in any way representing divine cleansing, which was the point of the parable. Killing in this case would mean not merely a moral choice to eat animals as such, but approval of keeping animals in great physical suffering and soul-killing confinement, as most readers of The Peaceable Table are well aware. If you would not do it, this would mean drawing a moral as well as a cultural line.

Third, do you kill with your own hands? That was the (symbolic) command given to Peter, but the vast majority of those who eat animal flesh do not actually kill those they eat. Not a few would find that job too distasteful to perform personally; they are content to hire others far away to do it for them. But if you would not really do the killing yourself, strictly speaking you cannot claim this parable as your dietary justification, since that is what it commands.

The Path of Love for All
The bottom line is that Christianity (and Judaism its mother) is not a religion merely of literal adherence to ancient texts, but of listening for and heeding God's word of love in the old and in the new; it is openness to grace. As James Russell Lowell put it in "The Present Crisis," "They must upward still and onward / Who would keep abreast of truth." The point is not just to stretch as far as possible what is permitted short of actual sin, but to attune ourselves to where God's grace is leading us today, and to follow what is most decisively the path of love for all God's children, indeed for all God's creation. For many of us, in light of what we know of today's conditions--especially the extreme crowding and the atrocities caused by rapid assembly-line killing-- that means a plant-based diet.
We can take Peter's realization that nothing God has cleansed remains unclean, and bring it to a profound understanding that all creation is now clean--but as Paul said, it "is groaning in travail together until now, waiting for adoption as [daughters and] sons, for the redemption of our bodies (Rom. 8:22-23)." Even today, all beings deserve loving respect, and opportunity to fulfill the life of the Spirit coming to birth in each one.
Unset Gems
If the Divine Creator [of animals] gave them legs, is it not blasphemy to shut them in crates where they are unable to walk?--Al-Hafiz Masri Contributed by Idarmis Rodriguez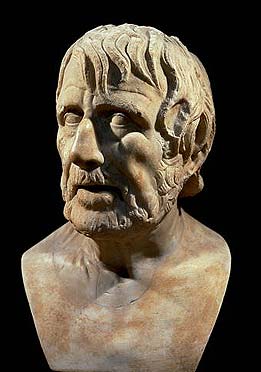 "It is compassion that recognizes the true nature of reality, that of interconnected heart and soul."
--Robert Ellwood
"What with our hooks, snares, nets, and dogs, we are at war with all living creatures . . . and all this is to gratify a fantastical palate."
--Lucius Annaeus Seneca (4 BC-AD 65)
--Contributed by Lorena Mucke