Guest Editorial: Gandhi and Vegetarianism
By Steve Kretzmann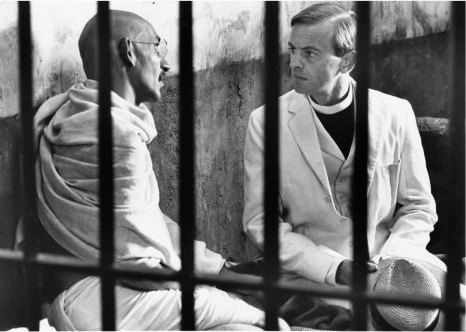 . . . . The commitment of Mohandas K. Gandhi to nonviolent social action is portrayed magnificently in the film [Gandhi]. Unfortunately, the roots of his convictions are not made known to the viewers. Vegetarianism was one of his basic convictions.
Raised in a family that abhorred meat-eating, Gandhi's vegetarianism was firmly based. His youth included a period of uncertainty about maintaining his diet, during which an adolescent friend persuaded him to eat meat on several occasions. While studying in England, where Gandhi kept his sacred oath of vegetarianism [given] to his mother, he read Henry Salt's A Plea for Vegetarianism. The book, as he writes in his autobiography, led him to "become a vegetarian by choice . . ., the spread of which henceforth became my mission." Later, "as the ideals of sacrifice and simplicity were becoming more and more realized, and the religious consciousness was becoming more and more quickened in my daily life, the passion for vegetarianism as a mission went on increasing."
In 1926 Gandhi wrote, "I do not regard flesh-food as necessary for us at any stage and under any clime in which it is possible for human beings ordinarily to live. I hold flesh-food to be unsuited to our species. We err in copying the lower animal world if we are superior to it."
Later in his life, while he was in England in 1931 for the Round Table Conference on India, Gandhi gave an address to the London Vegetarian Society, in which he stated, " . . . At an early age, in the course of my experiments, I found that a selfish basis would not serve the purpose of taking a man higher and higher along the paths of evolution. What was required was an altruistic purpose. I found also that health was by no means the monopoly of vegetarians. I found many people having no bias one way or the other, and that non-vegetarians were able to show, generally speaking, good health. I found also that several vegetarians found it impossible to remain vegetarians because they had made food a fetish . . . . We easily fall a prey to the temptations of the palate, and therefore when a thing tastes delicious we do not mind taking a morsel or two more . . . . What I want to bring to your notice is that vegetarians need to be more tolerant if they want to convert others to vegetarianism. Adopt a little humility. We should appeal to the moral sense of the people who do not see eye to eye with us. If a vegetarian became ill, . . . a doctor prescribed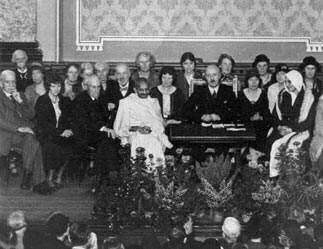 beef-tea, [and he drank it], then I would not call him a vegetarian. A vegetarian is made of sterner stuff. Why? Because it is for the building of the spirit and not of the body. Man is more than meat. It is the spirit in man for which we are concerned. Therefore vegetarians should have that moral basis--that a man was not born a carnivorous animal, but born to live on the fruits and herbs that the earth grows. I know we must all err. I would give up milk if I could, but I cannot. I have made that experiment times without number. I could not, after a serious illness, regain my strength unless I went back to milk. That has been the tragedy of my life. But the basis of my vegetarianism is not physical, but moral. If anybody said that I should die if I did not take take beef-tea or mutton, even under medical advice, I would prefer death. That is the basis of my vegetarianism. I would love to think that all of us who called ourselves vegetarians should have that basis . . . . I have found from my own experience, and the experience of thousands of friends and companions, that they find satisfaction . . . from the moral basis they have chosen for sustaining vegetarianism."
Hopefully, Gandhi, which is a film worth seeing more than once, will lead many people to read Mahatma Gandhi's writings, where they will learn of his steadfast convictions on vegetarianism and how it was a fundamental part of his life and nonviolent struggle.
This essay, by the founder and first editor of the Friends Vegetarian Society of North America, is taken from the Fourth Month 1983 issue of The Friendly Vegetarian (FV), when Richard Attenborough's film Gandhi was current. Essay used with the permission of the later editor of FV.
The upper photo, from the film, shows Ben Kingsley as Gandhi and Ian Charleson as his colleague, Anglican clergyman Charles F. Andrews. The group photo was taken at the London Vegetarian Society meeting in 1931. Gandhi, in white, is in the front row.
For more on Gandhi and vegetarianism, see the Pioneer and Editorial columns, PT 8 .
Unset Gems
"Please don't eat the animals. They don't like it."
--Elizabeth Farians