Guest Editorial: The Animals Called Noah, Too
By Jay McDaniel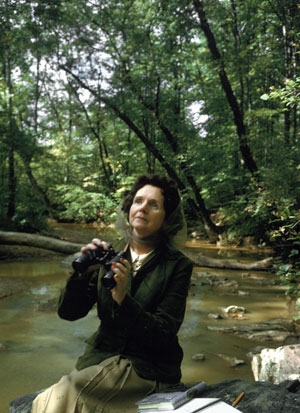 Noah returned to earth many years ago as Rachel Carson. Her book Silent Spring, published in 1962, invited people to recognize that springtime will indeed be silent unless we listen and respond to other animals with respect and care. Rachel Carson was a good scientist but also a good listener. She knew that music is not reducible to human sounds. Trained in marine biology, she could hear the songs of the whales. She wrote bestselling books about the wonders of marine life: The Edge of the Sea and The Sea Around Us. We know from Silent Spring that she could hear the melodies of the songbirds, too.

To Save, to Listen
Her kind of listening – call it the listening side of love – is part of science at its best. Science can be understood as one way that human beings try to listen to the world, with particular attention to its recurring patterns and rhythms. But this listening is sometimes neglected by muscular and zealous Christians and other persons of faith who want to go out and save the planet. There is something overdue, yet also something overhasty, about wanting to save the planet. The system of factory farming that causes so much pain and harm does indeed need to be dismantled. The habitats of wild animals do indeed need preserving not only for our sake but also for the animals' sake. The waters need cleaning and the air needs purifying and freshening. We can appreciate it when we hear Christian and other spiritual activists say: "Let's roll up our sleeves and get on with the task of saving the planet."

But we must also be uneasy. There is something insufficiently receptive about this gregarious approach to life: something we might learn from Zen. The animals and plants do not simply want to be saved; they also want to be listened to and appreciated on their own terms and for their own sakes. Without listening, even the most prophetic of actions can become a will-to-mastery trapped by good intentions. Let's imagine, then, that Rachel Carson has now returned to our planet as a local pastor who is preparing a sermon on the occasion of a Blessing for the Animals. What would she say? Here is one possibility:
In the beginning is not the word: it is the listening. Families cannot live happily as families, and friends as friends, unless they listen to one another. Neighbors cannot live peacefully as neighbors, and nations as nations, unless first they hear one another's concerns.  Farmers cannot till the soil, and poets cannot stir our minds, unless they listen to the sounds of creation: to the rhythms of the seasons, the songs of the birds, the howling of the wolves, the music of the spheres. 

God Listens
Even God must begin with listening.  God cannot respond to the cries of the world, or the laughter of children, or the songs of whales, unless God first listens.  Otherwise how can God hear prayers?  How can God know how to respond to what happens? Of course some people who believe in God will reject the notion of a listening God because they think that God does not need to listen.  From their perspective God knows all things in advance, because the script of history is already written in God's mind.  Nothing can surprise God.  To bolster their case that God is invulnerable, they may add that there was a time, some thirteen billion years ago, when there was nothing for God to listen to, because the universe did not yet exist.

But the creation story in Genesis suggests the contrary.  This story suggests that during this time there was a watery chaos, a creative energy, from which God called the universe into existence.  If this is the case, then God had to listen to the potentialities within the chaos in order to call the world into existence.  Still more poignantly, God had to listen to a yearning within the divine heart: a yearning for the chaos to evolve into the heavens and the earth.  What was this yearning?  Did God seek companionship?  We really do not know.  What we do know is that from the very beginning, even in God, there had to be a listening.

Therefore I Listen
Let's say that we are made in God's image and that our calling in life is to live in a way that is inwardly inspired by God's listening. The New Testament invites us to walk in love as Christ walked in love. Perhaps this is to walk in the listening. If this is true then there is something very radical about this idea. Our calling in life is not to be rich, powerful, and famous. It is not to make our mark in history or receive flattery. It is not even to claim our Christian or other religious identity, like a flag we want to want to wave in other people's faces. Instead it is to accept the vulnerable, momentary nature of life and walk through life as best we can by dwelling lightly on the earth and gently with others, day by day and moment by moment. It is to live with integrity, not ambition.

This life of integrity requires creativity as well as listening. But the creativity must come from the listening, not in advance of it. We cannot approach the natural world with pre-designed game plans concerning how it can be managed. Instead we must listen to it, with a heart of wonder and humility, and then determine what is needed. Only if our creativity flows from our listening, will it be constructive rather than destructive, compassionate rather than violent, helpful rather than harmful. Listening and Creativity: these are the yin and yang of the callings we receive from God.

We Christians believe that Jesus was the listening incarnate. We see his healing ministry as a revelation of divine listening and his improvised responses a revelation of divine creativity. He was true to his callings, to the best of his abilities. Surely, if he was human, he fell short of his callings sometimes. He was like us in all respects, but more vulnerable and therefore more fully human. It is in his humanity that, for us, he is a window into a love supreme.

To Be Ordained
The callings need not come from outside us as a particularized voice from heaven. They come to us every time we encounter the face of another person, or another animal, or a landscape. In their very presence to us we experience a calling, an invitation, to pay attention and to care. Just as in some religious traditions, certain persons are ordained to the ministry or priesthood, we are all ordained by these calls. Not just by the humans. The animals ordain us, too. If we are priests it is from the animals that we receive our blessings.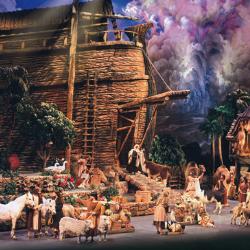 This is how it worked with Noah. The story tells us that God commanded him to create an ark to protect the animals. But the animals called Noah, too. God's call was first of all a call to listen to the animals, to hear their callings, and to be ordained by them. But how did God know to do this? Why did God even care? The calling originated out of God's own listening: a listening to their sufferings and their joys, their playfulness and their wisdom. Listening changes the listener. It is from this listening that God decided to establish a covenant with the animals and to invite Noah to live by this covenant. It is from this listening that we are called even today.

So let's put down our flags for a moment. Let's not be so full of our own impulses to save the planet that we reduce it to an image of our own making. Let's recognize that our calling in life is to allow the other animals to be who they already are: creatures made in the image of God. And let's recognize that God – the ongoing activity of deep listening – is made in their image, too. Even God is ordained by the animals.

"I Am a Part of All That I Have Met"
Ordination makes a multiplicity of us all. As we listen to others they become part of us even as they are more than us. Think of what happens when you really listen to music. In the listening your isolated self drops away and the music becomes you. And when you listen to songbirds they become part of you, too. You carry their songs, and something of the birds themselves, within your own heart. The philosopher Whitehead put it beautifully but abstractly: "The consequent nature of God is composed of a multiplicity of elements of individual self-realization. It is just as much a multiplicity as it is a unity." (Process and Reality, 350) We can put it more simply. The face of God is found in the face of each animal, each plant, and each person. The voice of God is in their callings. Everything we see is a sacred song and story, if only we have ears to hear.
Unset Gems
"God doesn't make trash."
"God's original plan was to hang out in a garden with a couple of naked vegetarians." --From a bumper sticker, cited in The Friends We Keep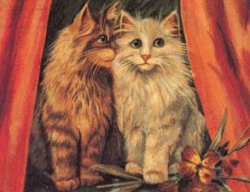 I learn a lesson of life from a little kitten of mine, one of two. The old cat comes in and says, very cross, "I didn't ask you in here, I like to have my Missus to myself!" And then he runs at them. The bigger and handsomer kitten runs away, but the littler one stands her ground, and when the old enemy comes near enough kisses his nose, and makes peace. That is the lesson of life, to kiss one's enemy's nose, always standing one's ground. --Florence Nightingale, contributed by Benjamin Urrutia
For further information about Florence Nightingale and her cat friends, see Cat Friend