Editorial: The Hidden Paradise, the Hidden Hells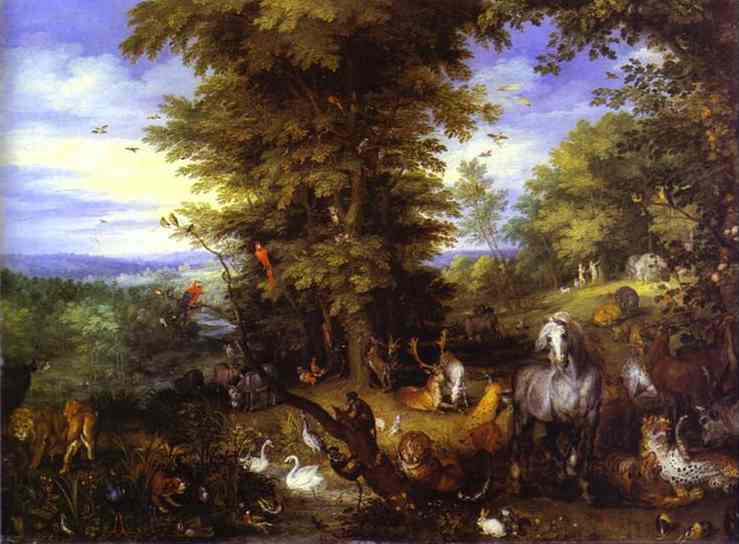 Behind the wild bird's throat
An Eden, more remote
Than Adam knew of, lies--
The primal paradise,
Lost, yet forever here . . . .
Paradise
Readers may recall "The Hidden Paradise," the editorial in the June-July 2008 issue of PT ( see Paradise ). Its thesis was that "paradise" refers not only to a garden of ideal peace and joy at the beginning and end of the biblical saga of history, but also to an ever-present reality largely hidden from our consciousness, coexisting with the world's evil and suffering.
Highlighted in the essay were the following aspects of this Reality:
Unity: Some mystics, as well as German and English romantics of the late eighteenth and early nineteenth centuries, have celebrated a Power that pervades all things, all life, and seeks to draw the separated into "the hidden unity in the Eternal Being."
Beauty and Splendor: Persons in altered states of consciousness have perceived a preternatural beauty in ordinary things. Colors are luminous; "the dust and stones of the street were as precious as gems," says mystic Thomas Traherne of his childhood perception of the world.
Presence: A live transcendent Power, a divine Something or Someone, is present throughout the world. This Presence may be perceived as personal, impersonal, or both.
Harmony with Animals: Some who have been aware of the reality of paradise have felt a deep kinship with nonhuman animals--Francis of Assisi is a well-known example--and act to befriend them.
The Beatrician Vision: In his analysis of the works of Dante, poet-theologian Charles Williams proposes that the person who falls in love perceives, for a a few months or years, the divine glory in her/his beloved. The lover tends to be unaware of the beloved's faults during this period of rapturous lucidity. After this window of vision closes, her/his faults will be all too apparent, and the wonderfulness the lover saw is likely to seem illusory. But it is real, and exists in everyone.
Countless people (and animals?) have fallen in love, and fallen out of it; probably far fewer have experienced the altered states of consciousness in which all things appeared glowing with sublime beauty, or drawn together in kinship or seamless unity. Thus the fullness of this Paradise remains hidden most of the time. But refracted glimpses that offer a touch of happiness, if not a storm of rapture, are readily available to many: in the clear night sky, in blossoming trees, in autumn leaves on the wind, in a strain from Mozart, in the rainbow flashes from a diamond, in the sight of loving animals snuggling together. Though most of the time we may "miss the many-splendored thing," Paradise is not hidden altogether.
The Hells
John Hall Wheelock's poem "Wood-Thrush," whose opening is cited above, describes not only the narrator's mystical-intuitive perception of the presence of paradise when he hears the song of the thrush, but of the presence of the world's evil and anguish as well:
. . . .Troy lost and Hector slain,
Judas and Golgotha,
The longing and the pain,
Sorrows of old that were. . . .
Like Paradise, Earth's many hells, of innocent, guilty, or semi-guilty suffering, are partly hidden. One of the factors that hide them is what also hides Paradise: our limitations as incarnate beings. Of the vast majority we remain simply ignorant. Some make their way into history books or into the news: natural disasters, and disasters triggered by greed; street crime and child abuse; terrorist attacks; wars of aggression. Most of us will wince at the thought of the terrible suffering involved, but the impression usually soon fades, and we turn to something else. Our geographical distance and our differing foci of interest insulate us from the horrors.
There are other insulating factors as well. One is cultural blinkers and blindfolds, which may combine with geographical barriers, or function very effectively by themselves. For example, before the second wave of the women's movement, it was common for women who suffered rape or other abuse to be isolated by a climate of blame for their victimization: "she asked for it." In some subcultures, having been raped may even make them "fair game." Similarly, in the late nineteenth and half of the twentieth century, when the Ku Klux Klan and lynch-law ruled in much of the South, photographers would produce and sell postcards picturing gleeful white mobs surrounding a black figure hanging from a tree. whose crime may have been making a self-assertive remark or flaunting an expensive item of property. Blinded by prejudice, people cannot see a horror that is right before their eyes.
A third factor hiding the hells is secrecy and deceit. Example: a transcontinental corporation that is wrecking the environment in a developing country, and suppressing protests with deadly violence, protects its markets by keeping the story out of the major media at home. Another: an unscrupulous government wins over its people to an aggressive war via fictional stories demonizing the target people, or even by mounting a "false-flag" attack on itself for which it blames the other. Whistle-blowers find their reputations ruined, face prison, or suddenly succumb to mysterious illnesses. Torture centers are set up in secret locations.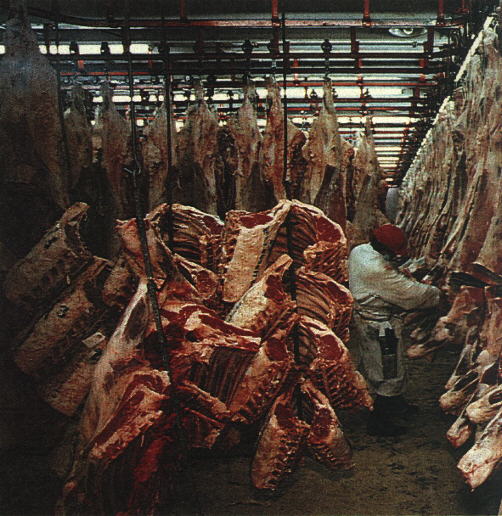 Readers of PT will recognize a number of these factors and tactics at work hiding the animal hells. For decades most people have been ignorant, protected by geographical distance and more. Our very language sets up a whole system of blinkers, beginning with referring to an animal as "it" rather than the obvious she or he, and a whole vocabulary that demeans and depersonalizes animals, making exploiting, killing, and eating them part of The Way Things Are. Deceit and secrecy make an unholy alliance when factory-farms give themselves bucolic names like Clear Run Farms or Happy Valley, but need barbed wire and concrete walls to keep the public from looking in on all that happiness. As a result of footage of horrendous abuse appearing in the media in recent years, several farm states are currently considering laws making undercover photography a felony. Challenged, the powers of this network of hells are trying to consolidate their strength.
Uncovering the hidden hells to public gaze so that they may ultimately be dismantled is a painful and thankless task, and, in parts of the U.S. at least, may soon become more painful still. We continue to support this process nonetheless because we feel a powerful compassion, and because of our faith that its source in Divine Love is more deeply based than the evil rampant in the hells. One of the ways I have expressed this faith is in referring to "the hells" in the plural, and Paradise in the singular. They are pockets, or rather pits, of horror; Paradise, centered on the Hidden Unity in the Eternal Being, is the Center and the Circumference of reality. As we work to disclose and empty these hidden hells, we need to refresh ourselves from time to time by resorting to Paradise, our true home.
--Gracia Fay Ellwood
The painting of Paradise is by Jan Brueghel the Elder, ca. 1620.
Unset Gems
"We cannot die on every cross, nor are we expected to."--Thomas Kelly
"I looked at all the caged animals. . . the cast-offs of human society. I saw in their eyes love and hope, fear and dread, sadness and betrayal. And I was angry. "God," I said, "this is terrible! Why don't you do something?"
God was silent . . . "I have done something . . . I created you." --Jim Willis, 1999
--Contributed by Lorena Mucke
"The strong are the patient ones."--James Clavell
--Contributed by Carl Sheppard