Brother Pig, Sister Star:
The Role of Humans as Part of the Living Universe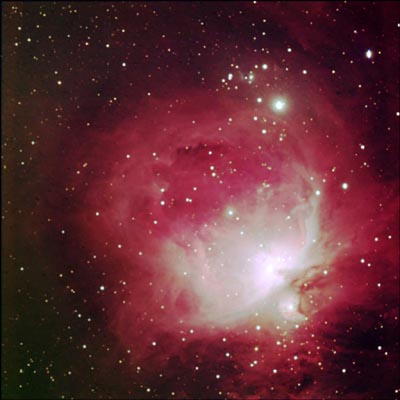 What is the role of human beings on Earth? The possibilities seem almost infinite, including the common assumption that humans (or certain humans) are masters of an inert world which they bend to their will.
I propose that we consider ourselves rather as parts of a living Earth in a living Universe. Just as the human body is made up of living cells that form complex systems such as the circulatory system, we human beings, plants, and animals function as the cells of the Earth to make up life-sustaining systems. A human being must eat to live, and a nonviolent, plant-based diet fosters health for the individual.
On a physical level, vegetarians are known to have lower incidence of degenerative diseases. Emotionally and spiritually, vegetarians are often more attuned to the environment and to other animals with whom they share the Earth. Thus by forming healthy "cells" of the planet, humans are contributing the overall integrity and well-being of the living Earth.
By contrast, eating a meat-based diet increases the risk of disease to the human body. Meat eating increases the risk of those major killers, coronary heart disease and breast and colon cancer. In addition, meat consumption is highly correlated with a wide range of degenerative diseases, including osteoporosis, kidney stones and gallstones, Type II diabetes, multiple sclerosis, and rheumatoid arthritis. Consequently, by living a life that leads to cellular degeneration, suffering, and premature death for the individual being, humans contribute to the destruction of the living Earth.
Furthermore our relationship with the other "cells" of the Earth, plants and animals, also affects the well-being of the Earth. When humans cause the suffering and premature death of animals for food, it creates a situation similar to that of an auto-immune disease, such as rheumatoid arthritis or some forms of AIDS. The cells of the individual body attack other cells and disrupt the body's health and well-being. The inherent violence of eating meat undoubtedly causes great harm to the living Earth. This is evident not only in the misery, pain and horror experienced by the animals abused and slaughtered, but also in the devastation that animal agribusiness causes to the environment. Currently one third of the world's land is threatened with desertification through overgrazing of grasslands, clearing forests for grazing, and overcultivating croplands to feed farmed animals. Just as important, the Earth's water supply is also at risk: a day's food for a meat eater requires over 15,000 liters of water, compared with 5,000 for a vegetarian and a mere 1,500 for a vegan (source: vegansociety.com). In order for the Earth to be healthy we humans must strive to live in peaceful harmony with all other life on the planet. By accepting our role as parts of a greater whole—as cells of the Earth—we can work in unity to strengthen and promote the health of the living Earth.
The Earth as Part of the Living Universe
Just as the Earth may be seen as a living entity, we may view the Universe as a living Universe. If we consider humans to be cells of the Earth, then let us regard the Earth as a organ of the Universe. The human body requires all of its biological systems—such as digestive, nervous, endocrine and circulatory systems—in order to survive and lead a healthy life. In turn the Universe needs all of its components to be healthy. Consequently, Earth has a role, mostly unknown to us, in the life of the Universe. Perhaps we may consider the role of Earth to be like that of the heart of the Universe, not that we are its center, but that we are in vital communication with all other parts, and thus necessary for the health of the Whole. The idea of a living Universe can seem very strange to us at present; but what it means is that all of us are important, all inter-related in Being that exceeds our comprehension.
The Effect of Human Behaviors on the Living Universe
Human feelings and actions can and often do interrupt the natural balance of Earth. Greed, hate, boredom, anger, and envy (among other traits) lead to dangerous behaviors such as stealing, violence, cruelty, and destruction on both the individual and the corporate levels. Humans also disrupt the well-being of the planet by overuse or misuse of technology. Examples include massive applying of pesticides, over-development of land, genetic manipulation, and exploitation and destruction of other living beings and species. This situation threatens a physical-spiritual catastrophe. When we see God and the Universe as One, we see that the harming of Earth through the destruction of its living beings, regardless of the species, will cause the Universe to suffer. Actions of destruction make human beings numb and insensitive to the beauty and variety of life on Earth; they lead humans further away from their own true selves, away from their spiritual connection to the Spirit of Life, away from God.
Yet humans are inherently wonderful and vibrant creatures. We have the ability to live, to care, to show compassion, to act altruistically and change things for the better. Most importantly, we are able to love. We have the ability to comprehend our need to share Earth with all life. We may not fully understand the purpose of each and every species or microbe, let alone even the specific role of our own species, in this vast Universe; it is enough that we recognize that we are not the master species. All life matters infinitely, and balance is crucial for continued existence.
Our Faith and the Living Universe
As we seek to open ourselves to the Light within, it is of utmost importance to hear that still small voice that dwells in us all, to guide us in our actions not only in relation to other humans but in relation to all life. Our monthly queries for self-examination may guide and inspire us to know That of God in all beings, all life. We must expand our concern beyond humankind and even beyond this planet; we must embrace the Universe as the ever-evolving, continuing creation of God. As we do so, and as we let our lives speak, we will nourish our spirituality and strengthen our connection with God.
Religions are human creations; intended to bring about our unity to ultimate reality, they may just as well function to disconnect us from the Spirit of Life. But when one increasingly feels him- or herself to be part of the whole, we may not only increasingly learn our individual roles in the Universe, but also find ways to foster and bring about Universal harmony, beginning with our relationships on Earth.
Practicing Quaker Testimonies in the Living Universe
Our Quaker testimonies of Peace, Equality, Simplicity and Truth/Integrity are important tools for developing one's framework of practice to promote and maintain the optimal well-being of individuals, families, communities, countries, Earth and amazingly, even the Universe. The testimony of Peace/Nonviolence may be practiced not only among humans, and not only under certain circumstances—it can transcend humanly created boundaries and extend to encompass all life. Reaching out in peace and kindness to all life is the manifestation of a life surging with spiritual awareness and love.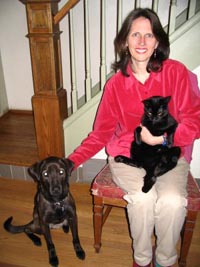 Simplicity is crucially important into putting this love into practice. Living a simple vegan lifestyle is one way to further develop the sense of belonging to a greater whole. Such a lifestyle also exemplifies Equality and Truth/Integrity by promoting clarity, avoiding excesses, and sharing our resources.
Thus, viewing the Universe as a living entity and knowing in practice that there is that of God in all things living can deepen our faith, enrich our connection with the Light, and empower us to sow the seeds of Divine Peace.
—Angela Suarez
Angela Suarez, pictured above with friends Mickey and Viviana, attends the Pittsburg Friends' Meeting. She, her family, and companion animals practice a non-violent vegetarian/vegan lifestyle as an expression of their commitment to the unity of all creation.