Refusal and the Journey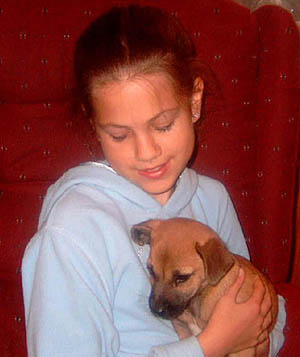 In the newsletter All Creation, editor Candi Phillips tells some animal stories from the New Orleans disaster. In one, a news reporter found and rescued a chihuahua in the kitchen sink of a flooded home; it seems the little dog swam in the rising waters, reaching the temporary safety of the sink. In another, in footage shown on the Oprah Winfrey show, one man was seen burying his face in the ruff of his dog while another told the camera "We've been waiting here for days for everybody to go with everybody else, so we can get on [a boat] with the dog. And then they told us at the last minute we can't take the dog. Well, this guy and his dog rescued me off my roof. He's only 24, and he's had the dog for 14 years. Well, we're not leaving without the dog. . ." The rescuer promised to take the dog to a home in Baton Rouge, from which his guardian could retrieve him later. The young man flung himself into the rescuer's arms, and both cried.
On the other side, many rescuers had a policy of refusing to accept companion animals, period. To some extent, this arises from knowledge of their limits: limited space, limited emergency supplies. This undeniably presents a painful dilemma. But there have also been armchair critics whose objections strike a different chord, one all too familiar. These amount to an insistence that nothing whatsoever should be done for animals, at any time, until all human needs have been met: which in effect means never. They may caricature animal activists as sentimentalists who ignore starving children while gushing over the discomforts of rabbits. Tom Regan reports, in Empty Cages, that he has usually found that such persons are themselves doing nothing to help either human or nonhuman animals. (One effective response is to offer to join the critic next time in whatever hands-on volunteer activity she or he ordinarily does.)
But this do-nothingness is by no means always the case. To revert to our central concern, nonviolent diet, there are many people who in strictly human areas are doing beneficial, even compassionate work, may keep a cat or a dog themselves, but do not want to hear a plea for nonviolence toward farmed animals. They want slaughterhouses to stay in business (they may specify that killing should be painless, but they don't make inquiries before meals).
Will Tuttle in The World Peace Diet describes this resistance as part of a conspiracy of silence about the basis of our culture in exploitation of and violence against animals. He says that when he speaks to church groups about animals, the resistance is almost as palpable as a wall, even in the Unity church, which was founded by articulate vegetarians. In another image, he suggests that the person who awakens to the truth is one who "leaves home." We cannot see the terrible truth until we go on a journey, viewing the situation from an existential distance. Even though we can have companions on the journey, to risk this state of homelessness takes great courage. Many will not be ready to take it on.
It is a temptation for those of us on the journey to respond to the folk who will not follow by branding them hypocrites (at least mentally), especially if they are members of our spiritual community who profess to be compassionate, even nonviolent. But I believe that to label them so is a mistake, a failure of our hearts as well as theirs; in my opinion, we should reserve the word "hypocrite" for the consciously dishonest. As Mohandas Gandhi says in his autobiography, the quickest way to obtain justice is to do justice to the other side. Compartmentalized compassion is still genuine compassion, and achieves genuine good. Besides, we do not know what compartmentalization may still exist in our own hearts, what failures of love and of truthfulness.
All compassion, all love wells up from the Divine Light that dwells in every heart of every being. If we undergo the pain of spiritual homelessness and transformation, and come to live from this Light from hour to hour, we can become like Joseph Campbell's Hero, at home everywhere. We will then able to return to our community with gifts of renewal.
—Gracia Fay Ellwood