God Is With Us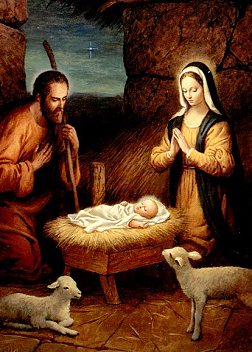 Hanukkah and Christmas are both festivals that celebrate a God who saw his (her) people suffering intolerably under the heel of a cruel foreign power, a God who had compassion and came to deliver. Both present symbolism of light shining in darkness, of a renewal of the great deliverances of Exodus and of subsequent sacred history. To quote a hymn by Faith Bowman:
While the world was wrapped in silence,
Winter night's swift course half-run,
God's almighty Word of Wisdom
From her heavenly place leaped down!
To a people battered, bleeding,
Ruled by rapine, fire and fist
Came a pledge of peace and healing,
Of God's kingdom in their midst. . . .
For many Christian and Jewish vegetarians, the nature of this God is central to their motivation: the One who cares about the suffering of human victims of oppression and violence and rescues them is the same "whose tender mercies are over all his works." For such people of faith, rescuing homeless cats and dogs from the streets, or farmed animals from sickening conditions of abuse and neglect, is a natural extension of their worship at these festivals.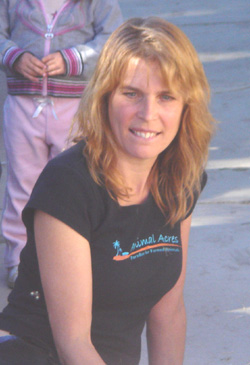 Several recent visits to a new farmed-animal shelter in Southern California, Animal Acres, founded by Lorri Bauston (pictured at right), has brought this comparison vividly to my mind. I do not claim that the people who run it are necessarily conscious of the connection themselves, but all works of compassion may be said to have the same divine Source, and to my mind, these folk have offered themselves to be the hands of God on earth.
At my first visit, during the shelter's grand opening, we members of the Animal Kinship Committee of my Quaker Meeting met a flock of chickens pulled out of a factory farm wrecked by Hurricane Katrina, two calves, an enthusiastic piglet, and a small flock of turkeys who ranged freely through the central garden of the farm. The turkeys were to be the guests of honor at a happy pre-Thanksgiving ceremony, a very moving event we attended a month later. These birds socialize with one another, are curious and interested in people. It is hard to imagine that the much-touted pleasures of eating their corpses could begin to compete with the delight of interacting with them as bright-eyed and complex living beings.
My second visit was intended to offer help in caring for a large number of animals who had recently been rescued by humane law enforcement officers from horrendous conditions at a slaughterhouse. Among them were newly born piglets as appealing as the first one, huge numbers of quail, and about twenty-five or thirty sheep. The wool of the sheep was so matted and filthy that in most cases it could not be cleaned, and was shorn off. This operation showed some of the sheep to be dreadfully emaciated. Some had wounds; a few were very ill.
Because my spouse and I are no longer young, our ability to participate in the heavy work of cleaning required at any shelter was rather limited. We intend to remain involved, but our support may be mostly of other sorts. One of the sick sheep, a ram with a magnificent double set of horns, one below the other, I have "adopted." I ask readers to hold "Ramboy" and the other ovine patients in the Divine Light. Readers who wish to join in supporting the shelter may find their website at
www.animalacres.org
.
Those of us who will celebrate Christmas this month will be reminded that for Christians, Immanuel, "God-With-Us," means that God is present in a stable. The Divine Child is surrounded not only by the poorest of the poor among humans, but by the animals who are considered to have even less value than they. All of these God loves and comes to deliver, sometimes by the work of our hands. "Whatever you have done to the least of these my brothers and sisters, you have done to Me."
—Gracia Fay Ellwood