The Hound of Heaven?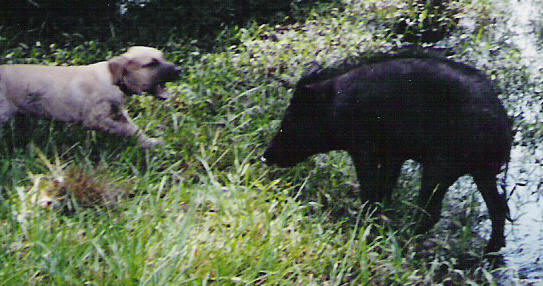 In the last issue we reflected on the symbol of the Lamb of God, the heart-tearingly beautiful and innocent baby animal destroyed by violence, who somehow redeems and renews. The poem this month, "Dog, Dog in My Manger," offers a problematic symbol of the other side of the picture. The animal here represents this destructive power that somehow transforms the soul seeking God, or indeed redeems the world.
The idea of the animal world as characterized by violence--"Nature red in tooth and claw"--is unhappily so common that friends of animals must be at pains to point out how one-sided it is. Undeniably, predation exists among animals; certain species cannot live without killing and devouring other species. But in fact such predator species are a minority. And we know that animals do not only prey upon "one another" (actually, other animals): they also nurture and protect their young, they build friendships, they protect and support their extended families, sometimes they even do acts of compassion for individuals of other species (see Reviews). Thus we must oppose such generalized characterizations of animals, as tending to increase human prejudice against them, or to justify human violence and exploitation.
What do we make, then, of the symbolic and fictional use of sometimes-violent animals as representing God's part in the struggle between good and evil, or the spiritual journey of death-and-rebirth? The film version of C. S. Lewis' novel The Lion, the Witch, and the Wardrobe, reviewed last month, ventures into this territory in presenting the divine figure as a talking lion. In fact Lewis, both in book and film, while suggesting that his Lion can be dangerous, never depicts him as actually stalking and devouring innocent prey. Aslan's violence, in the first story, is limited to directing a war against the evil forces of the Witch, and killing her. At this point the involved reader or viewer is rooting for Aslan, the children, and the good animals; only Quakers and others committed to nonviolence, and (other) feminists, are likely to see a problem.
And the problem is serious. A divine figure who employs violence will always, to a certain extent, be made in the image of the culture who creates and worships him or her, and will tend to have that culture's sins and blind spots. The violence in question may be intended to be righteous, but unfortunately when it becomes a model on a culture-wide level it tends to escape these intentions: a Lord of Hosts (armies) will sooner or later be seen as justifying Crusades, Inquisitions, jihads, and suicide bombings.
How about the violent-animal image used to depict aspects of the mystic's journey of death-and-rebirth, as in George Barker's poem below? The issue differs somewhat in that the audience of such a work is likely to be much more limited than that of religious scriptures and adventure novels, let alone major films, and those readers are more likely to be seeking God within their own souls than joining in physical holy wars. And in this case, the poem is intentionally obscure, limiting its audience still further. But the question remains: is it valid for one who seeks peace and justice to depict God as "Dog, dog, your bone I am, who tear my life / Tatterdemalion from me"?
The question is so difficult because logically, if "in all things God works for good," if the death of the lamb of God somehow brings transformation, then God is at work in the acts of violence that destroy the lamb. The idea of God as masterminding violence is, to say the least, repugnant. Luther calls it "the strange work of God." Mystical poets such as John Donne ("Batter My Heart, three-person'd God"), Gerard Manley Hopkins ("Thou heardst me truer than tongue confess / Thy terror, O Christ, O God") and George Barker do indeed experience God as the Mysterium Tremendum that unmakes them. Do not these images, even within their limited range of influence, become models, encouraging violence on some level?
I wish I had the answer. We are dealing here with mysteries that only fools think they have a handle on. But the poem, though it impresses me with its poetic depth and spiritual power, makes my heart uneasy. I don't expect that it will incite a holy war or encourage any guardians of dogs to abuse them. Nonetheless, it seems to me the sort of thing that we who love our fellow animals, and who seek to heal and repair the world, ought not to write.
Responses from readers are welcomed.
—Gracia Fay Ellwood