We Were Slaves to Pharaoh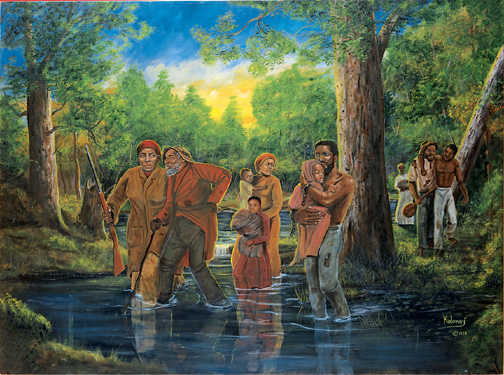 The 200th anniversary of the passage of a law in Great Britain abolishing the slave trade, celebrated this year, has drawn much attention to "the peculiar institution," as slavery was once called. Forums, exhibits and church services are being held in England (see Newsnotes). The film Amazing Grace, issued in February, depicted the decades-long efforts of William Wilberforce and his colleagues to abolish the trade (see Reviews).
The heinous and very profitable trafficking in human bodies was curbed but did not actually stop with the passing of the 1807 law. England was heavily invested in its war with Napoleon, and at first only two elderly ships were dispatched to patrol 3,000 miles of African coastline. Violations were numerous enough that in 1811, a further bill was passed by Parliament making slave-trading punishable by up to 14 years of penal transportation. Slavery itself was not to be abolished in the British empire until July of 1833, three days before the death of William Wilberforce, and thirty years before Abraham Lincoln signed the proclamation abolishing it in the Confederate states of the US. In some countries, it remained legal into the twentieth century.
Present-Day Slavery
Slavery--holding others as property, exploiting their bodies or their labor without recompense, under threat of violence--is illegal in all countries today. Unfortunately, it is nevertheless also thriving in scores of them. In Mauritania, West Africa, for example, it exists massively (and has for 800 years) in its traditional form, chattel slavery: persons are openly bought, sold, given away, willed to the next generation. It is based on racism and supported by a perverted form of Islam, in which slaves are taught that to serve their masters is to serve God. (Mainstream Islam actually has a better record than most major religions regarding race.) Laws in Mauritania prohibiting slavery are scarcely more than paper ordinances, and authorities look the other way.
The other three forms of slavery take a sociologically different form, feeding upon poverty and involving major trafficking. Ivory Coast is an example of forced-labor slavery. Desperate poverty in nearby states such as Mali results in children, especially boys about 11-16, being lured or stolen away by slavers with promises of jobs, and sold to farmers to work long hours picking cocoa beans and carrying the heavy sacks. They are locked up at night. Many are half starved and severely beaten if they are unable to perform as demanded, or if they try to run away. Since many of the farms are small and off the beaten track, it is easy for the hellish situation to go uncorrected. Documentaries in recent years have increased the efforts of various authorities and organizations to change the evil conditions, but results have fallen short of promises.
Ivory Coast produces nearly half of the world's cocoa. Some farms do not use slave labor, but when cocoa prices fall, slave labor increases. Cocoa beans from slave-worked farms and from farms staffed by free labor is mixed together, so that one can expect any bar of major-brand chocolate purchased in the US and Europe to be flavored with the blood of enslaved children. (Organic chocolate is much less likely to be slave-harvested, and fair-trade chocolate is by definition slave-free. Both will cost more.)
Bonded or debt slavery, including sex slavery, takes place when people from impoverished countries are promised good jobs, smuggled into wealthy countries, then faced with a hugely inflated fee for the smuggler's service. They are confined, isolated physically and/or psychologically, and kept in place by threats of violence. Some are given wages, but charged high "rent" and allowed to spend their money only at the "company store," where grossly inflated prices guarantee that they will never be able to pay off the debt. In southeast Asia, debt slavery traps millions and may involve whole families, parents passing on the unpayable debt to their children. In the United States debt slaves in many cases come from desperately impoverished peoples in Central America and/or Mexico, and end up harvesting fruit and vegetables, particularly in Florida. (Of course not all smuggled aliens are enslaved, though most are exploited.) Teens and women lured with promises of jobs and then enslaved as prostitutes in brothels can be sold over and over again, acquiring a new debt as soon as the previous one is paid off. If they become pregnant they may be forcibly aborted, or after birth their babies may be torn from their arms and sold.
Most people are still ignorant of the facts of human trafficking and enslavement, but with gradually increasing awareness and outrage, in some places efforts are being made to enforce the laws prohibiting them. For example, a boycott of Taco Bell from 2001-2003 on behalf of enslaved and other exploited tomato pickers ended with some improvement in their status. But for the most part, secrecy, fear, and language barriers make change difficult, and progress slow.
Nonhuman Slavery
One form of slavery is still legal virtually everywhere: that of nonhuman animals. The status of these living, sentient beings as chattel, to be bought and sold, is taken for granted; correspondingly, an animal is often referred to as "it" rather than "she" or "he." That this is slavery is hard for most to see, partly because most nonhuman animals held as property in the "'first world" are not kept for their labor, but for the exploitation of their bodies.
The status of animals kept as "pets" is ambiguous. Those whom people adopt chiefly to benefit themselves, e.g. to guard their property, and whom they may callously abandon when their presence becomes inconvenient, are indeed slaves. But many are warmly loved, and some are taken in purely for the animal's sake; thus calling them slaves is very inappropriate. In order to raise consciousness on the subject, the organization In Defense of Animals (IDA) has for years led a campaign to phase out the objectionable terms "owners," "pets," and "it," substituting "caretaker," "animal companion" (a mouthful--how about "cat friend," "dog friend," etc.?) and "she" or "he." Some cities have agreed to put this new language into their ordinances, either as replacements for the old, or as alternatives. The matter may seem trivial at first glance, but it is an important part of awakening our culture from its moral coma regarding animals.
That in most cases keeping animals is indeed slavery is evident from the many disturbing similarities between animal enslavement and that of human beings. Marjorie Spiegel's little book The Dreaded Comparison describes some of these parallels in regard to the historic enslavement of Africans: capturing/kidnapping, branding, hellish transportation conditions, auctions and other sales leading to the destruction of family ties, collars, fetters, and muzzles, the secrecy of many abuses and tortures, claims that they are better off than in nature, denial that victims have much or any feeling, use of demeaning and/or euphemistic language. The deepest motivation in both cases is of course the addictive drive for Profit. (Some may resent the comparison, says Spiegel, but that may be because of an up-down worldview in which for one party to have value, another must be inferior.)
Two forms of slavery, that of "dairy" cows and of "layer" hens, bear a particular resemblance to human sexual slavery. Like humans kept as sex slaves, these female animals are kept for the exploitation of their sex and secondary-sex organs, and their offspring are stolen/kidnapped from them. Will Tuttle has pointed out in The World Peace Diet a broader link between the exploitation of cows and the objectification of women; for example, "just as cows are forced to have unnaturally large and swollen mammary glands to over-produce milk for the dairy industry, the resulting foods produce unnaturally large mammary glands in the women who consume them--a feature that is prized in our herding culture and further reinforces women's status as mere objects for the eyes of men." The patriarchal herding mentality "sees both animals and women as 'meat,' to be milked and eaten in one case and used sexually in the other." He also points up that just as the crowded, stinking, stressful conditions in which these and other animals are kept make them sick, consuming their products and their bodies makes human beings sick. We become the victims of our victims.
Exodus
This is the season of Passover, the Jewish festival celebrating God's freeing of the Israelites from slavery in Egypt. Exodus is arguably the founding story of all three of the Abrahamic faiths (Judaism, Christianity, and Islam), because it shows that the heart of God is compassionate love. Unlike many pagan deities, God identifies not with the powerful in society but with the exploited, and delivers them "with a mighty hand and an outstretched arm." In the liturgy of the Passover Seder, those present are reminded that Exodus is not merely something that happened thousands of years ago; rather, all who celebrate the festival must acknowledge that what happened to these distant ancestors happens to us today. The implication is that all in the Abrahamic faiths are called to take "the view from below," to empathize with the slave, and rejoice that our God is a God who wills to free those held in bondage.
With the passage of time, as political and social changes bring new forms of enslavement and exploitation, God calls prophets to intervene and to renew Exodus. Like Moses they are enjoined to speak truth to corrupt power, even though it be the powerful of God's people; speak comfort and release to the slaves and the afflicted; and announce God's will for a commonwealth of compassion, justice, and peace on earth. Exodus cannot remain locked in the past: it is for all time.
Most Christians give little thought to the fact that Jesus saw himself as a prophet in this tradition. In Luke's story of the onset of his ministry, Jesus cites Isaiah 61:
The spirit of the Lord is upon me,
because he has anointed me to preach good news to the poor.
He has sent me to proclaim release to the captives
and recovering of sight to the blind,
to set at liberty those who are oppressed . . .
His execution at the time of Passover, at the hands of the Roman overlords and their creatures the Temple authorities, (not the Jewish people), was the answer of the Pharaoh of his day to Jesus' prophetic proclamation of the Kingdom/Commonwealth of God. His resurrection was God's response, "with a mighty hand and an outstretched arm," to the violence that enforced the rule of the new Pharaoh. It proclaims God's will that we be liberated both from human slavelords, and from bondage to the fear of death.
Every Exodus message comes through human minds, with human limitations. While a prophet's word condemns one form of exploitation, it may take another form for granted, or even reinforce it with its imagery. For example, in the Exodus narrative the Israelites' lambs, and the horses of the Egyptions, are seen as disposable. Yet the core of the prophetic critique remains, a divine gift out of which later prophets are called to develop, correct, and deepen the message of earlier ones.
Thus Exodus is indeed good news for animals. Throughout the centuries occasional Spirit-inspired voices crying in the wilderness have protested cruelty to animals, because they are included in the sphere of God's love. Most have barely been heard, and seemed forgotten. But in the last thirty-five years, prophets proclaiming release for these captives are growing both more audible and more radical. We are becoming harder to ignore. Whatever the discouragements, we must remember that the word of liberation from Pharaoh is not finally ours, but God's.
--Gracia Fay Ellwood
Derived from '21st Century Slaves," National Geographic, Sep. 2003,
John Robbins, "Is There Slavery In Your Chocolate?"
"Slavery 101," and other online sources