Editorial: Quakers and Abolition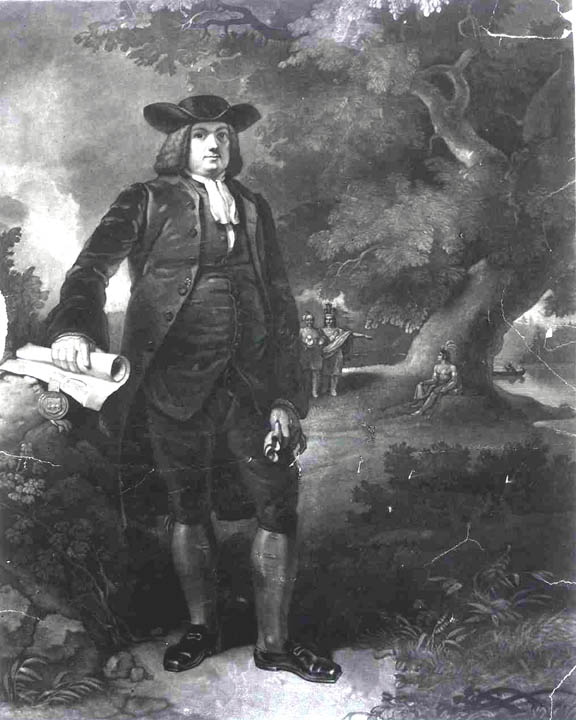 The history of Friends' struggle to end the cultural evil of human slavery has become a major model for present-day Quakers laboring under an animal Concern.
Minutes and Evasions

Following scattered individual denunciations, the movement among Friends began officially in 1688 with a minute totally condemning slavery, especially the slave trade, proposed by four Germantown Friends to their Monthly Meeting in Dublin, Pennsylvania. The minute (or rather the buck) was passed on first to Quarterly and then to Pennsylvania Yearly Meeting (the umbrella gathering), and was finally dismissed by the latter with suitably evasive words.

The shameful fact is that, despite the Inner Light and the testimony of Equality, Quakers were themselves complicit in various aspects of human slavery, which was to result in painful intra-Society conflict. It is instructive that six years after the ignoble spectacle of 1688, a considerably more limited minute, urging Quaker merchants to discourage their contacts abroad from sending slaves, was passed by Pennsylvania Yearly Meeting.
Furthermore, not all Friends involved in slavery resisted the abolitionist movement, as can be seen by the fact that between 1675 and 1710, many Maryland Friends freed their slaves. Some Friends felt it best to keep or even buy slaves in order to insure that they would receive humane treatment and an education, but others seemed to find little problem with professing Equality and profiting from their human property.

In 1727, with the support of concerned North American Friends, a minute censuring the slave trade was passed by London Yearly Meeting (LYM). A generation later, in 1758, it was necessary for LYM to condemn the slave-trade again, and urge Friends everywhere to stay clear of "this unrighteous gain of oppression." The point was made yet again in a minute in 1761, this time including a clause that disowned any Friend who persisted.
Abolition and Compassion

Finally, under the continued influence of concerned North American Friends, principally John Woolman, London Yearly Meeting passed a minute in 1772 calling for all slavery to be "utterly abolished." In the next two decades slavery among Quakers did disappear, with the help of economic conditions. The whole process took about a hundred years. (See the online site "Quakers in Britain.")

The quality of the decades-long labors of Woolman and his colleagues Joshua Evans, Anthony Benezet, and other compassionate and far-sighted Friends are important to the eventual success of the abolitionist movement within the Society. Woolman was passionately and doggedly devoted to the cause, much given to prayer, and willing to follow the leadings of Divine Love, whatever the cost in social awkwardness or the sacrifice of comforts. During long journeys on foot in the 1750s and 1760s to speak to various Meetings and individual slaveholders, he and his companions combined an unsparing prophetic critique of slavery with a loving concern for the slaveholding Friends they addressed. They spoke with gentle tact, and worked with their hearers to deal the often formidable logistical problems involved, which included the danger of unemployment and starvation for the liberated persons. Woolman's ministry remains a cherished model of Light answering Light.
Reaching Out

In the late 1700s, Friends, especially in Britain, were also taking action toward ending all human slavery in the English-speaking world. This involved inventing new tools: the boycott, the public petition, and the lobby. In the 1780s Friends formed the first anti-slavery society, and soon joined with Anglican and Evangelical abolitionists in writing essays for newspapers, printing and distributing eye-opening flyers and booklets, promoting boycotts of slave-produced sugar, gathering signatures on a petition to Parliament, and lobbying parliamentarians, especially William Wilberforce. These efforts achieved a major breakthrough in Parliament's abolition of the slave trade in 1807, and culminated in 1833 in the abolition of slavery in English domains (See PT, April, '07).

Also in the late eighteenth century and increasingly in the nineteenth, some devoted US abolitionist Friends turned to civil disobedience: specifically, the Underground Railroad, They not only risked opprobrium, legal action, imprisonment, and assassination, their work was sometimes resisted by other Friends who spoke against them and denied them the use of Meetinghouses for strategy sessions. Notable heroes of this work were "stationmasters" Levi Coffin and Catherine Coffin of Newport, Indiana; Thomas Garrett of Wilmington, Delaware, who lost his hardware store to a $5,000 fine, but rebuilt and continued his work; and prophetic preacher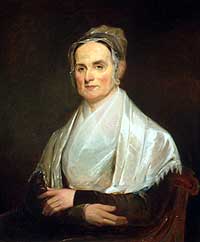 Lucretia Coffin Mott (pictured) and James Mott of Philadelphia. (Impressive though the work of these and other brave Friends may be, it should never be forgotten that the self-liberated persons themselves, facing death by torture, risked infinitely more.) . . . .
"And the Moral of That"--

Some practical insights helpful to faith-based animal defenders may be gleaned from the history of Quaker
abolitionism. Conspicuous is the need to to give much time to prayer; to be prepared for resistance, perhaps hostility, from members of one's spiritual family, but to continue, as best one can, to channel divine love to them; and to be committed to the long haul. There will be a time for compromise, and a time for civil disobedience to rescue victims; there is a time for new vision that finds new ways and means. Needed at all times are steadfastness, courage, and compassionate love for both oppressors and victims. The best of us fall short at times, but now is never the time to quit.
--Gracia Fay Ellwood
Excerpted from "Animals, Prophets, and the Hidden Paradise,"
in Religious Reflections on Animal Advocacy,
edited by Anthony Nocella II, to be published by LanternBooks.