Guest Editorial: Perils of a Peaceable Kingdom
by John Martin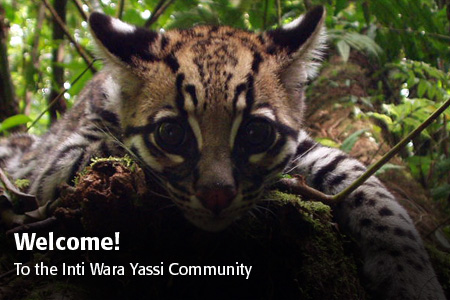 A Mini- Peaceable Kingdom
Two summers ago, I spent a month in Bolivia volunteering for Inti Wara Yassi (IWY), an organization with extensive grounds that rescues local wildlife from illegal private owners, who in many cases kept them in filthy conditions and subjected them to severe beatings. IWY cares for hundreds of animals: spider monkeys, capuchin monkeys, squirrel monkeys, coatis, howlers, pumas, ocelots, and a variety of birds and reptiles. At IWY they are rehabilitated and given as much freedom as they possibly can have without being a danger to themselves or people. After a lengthy quarantine process, many of the monkeys are eventually allowed to roam freely, only returning from the jungle at meal times. The mountain lions are walked around eight to eleven miles through the jungle every day depending on what mood they're in. They cannot be returned to the wild because they have no fear of people and have not learned to support themselves adequately by hunting.
Inti Wara Yassi will never turn down an animal or a volunteer when there is payment of the fee, which is between 145 and 178 dollars. The refuge is not funded by the government in any way. Bolivia is the poorest country in South America and it is very hard to find resources to help animals when people are suffering so much. In Bolivian culture, people tend to have little empathy with animals. People walking on the tourist trail would often grab at monkeys and demand that they be allowed to pet them. My friend Debra Lenik, who spent most of her day walking a 250 pound bear named Baloo, had people shout at her to either get Baloo out of their way or allow them to take a picture with him. At one point during my time at Inti Wara Yassi, two volunteers and a mountain lion who were walking by a creek were confronted by a duo of men who threw rocks at them and then released their dog on them.
IWY was founded by Juan Carlos Antezena in 1992 as an organization to help poor and orphaned children by teaching them how to make pottery and other crafts that could help them and their families. He often took the kids on hiking trips and one day they came across a forest fire and an abandoned peasant dwelling. Inside the house there was a small caged bird with clipped wings that was starving. They also later encountered some men getting a spider monkey drunk for their amusement. Juan Carlos took these events as a sign and made a resolution with the children that he would also dedicate himself to his nonhuman brothers--the trees and the animals.
Since that time, IWY has grown considerably and now consists of two large refuges staffed by professional veterinarians as well as volunteers. I volunteered at Parque Machia, a refuge which is located near the small town of Villa Tunari. My main job was taking care of one of the mountain lions, a very sensitive and affectionate beast named Sonko, walking him every day through the jungle.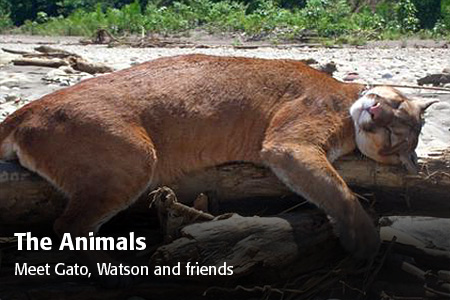 Parque Machia generates substantial revenue for the town by bringing in gringo backpacker volunteers who, sad to say, can afford to buy much more food and goods than the average Bolivian. Also, although most of the parque is not open to visitors, they do allow people to interact with the monkeys on a tourist trail and the profits are given to the local government.
In spite of this advantage to the community, some Bolivians are quite indifferent and even angry about the existence of the Parque. They believe that the land should belong to the people and not Juan Carlos and his army of animals, gringos and children. Parque Machia seems to be constantly in a state of crisis. Last year, the landlord who rented the area where the monkey quarantine is located spontaneously decided that she was going to sell the property. In a mere month, IWY was able to raise the equivalent of thirty four thousand dollars from friends and former volunteers in order to buy the land. This is especially impressive because every US dollar is worth seven bolivianos. Another big problem was that during my time at the refuge the park was robbed by some of the youth they were trying to help.
A Major Peril
However, park funding has little to do with the current peril Parque Machia has found itself in. According to volunteer Ali Wood, IWY received a letter in August from Feliciano Mamani, the mayor of Villa Tunari, stating that Parque Machia would be shut down to enable construction of a road connecting the town to Copacabana Baja (a community behind Parque Machia.) According to current volunteer Andres Gomez, the proposed seven and a half-kilometer road would cut directly through area currently inhabited by the parque. Inti Wara Yassi was given only two weeks to relocate themselves and their animals. Nena Baltazar, the refuge manager, was shocked to discover that the other inhabitants of Villa Tunari were unaware of this intended road. IWY in no way opposes the right of the community of Copacabana Baja to have a safe and viable access route from their location to the town, but recommends that a 300-meter bridge be constructed over the Chapare river instead. This would allow Parque Machia to continue and also give the people of Copacabana Baja more direct access to Villa Tunari. Ali Wood also claims that attempts have been made to construct a road through the area the park inhabits in the past, but that it collapsed because of the clay terrain. After another meeting in which the townspeople showed support for IWY, the mayor said that they would now have two months to relocate but that the road would be constructed and there was no getting around it. The idea for a bridge was quashed by the mayor as too expensive. However, he is also currently pursuing the construction of a multi-million-dollar bird-shaped lookout on the site of Inti Wara Yassi, making his financial concern suspect.

After the meeting with the mayor, the townspeople became strangely less forthcoming in their support for IWY. One person then produced a letter he had received which stated that if the inhabitants of Villa Tunari did not support the construction of the road, their water supply would be cut off. Also broader threats are now being made to change the leadership of IWY. The local government claims that Nena and Juan Carlos are not turning in the appropriate paperwork, are embezzling funds, and seriously mistreating the animals and youths. But according to Inti Wara Yassi, documents are in fact given to the appropriate council every year but that officials are hiding those documents to make Inti Wara Yassi look corrupt; they also deny that abuse is going on. (I did not see or hear of any during my stay.) According to Andres Gomez, Inti Wara Yassi believes that the goal of the local government is to remove Juan Carlos and Nena and turn Inti Wara Yassi into a money-making machine in which animals are kept in cages to amuse tourists, and profits are increased by removing funding for rehabilitation. Still other accusations, claims, and counterclaims are being made.
When I first heard about the situation at the refuge I felt immediately compelled to do something, but hindered by distance and by not being able to speak Spanish. I'm currently enrolled in college, so I cannot go there to investigate first-hand. I was told that the only way to help would be to publish an article to spread word about the situation. While receiving reports from both sides of the argument, I realized that it is ultimately a matter of whom I trust as I race against time to get something published. I trust Nena Balthazar; during my time at IWY, I had the opportunity to get to know her. My sense was that she was a dedicated and caring woman who spent nearly all of her time in service to the park. Although she is the head of Inti Wara Yassi, I most often saw her in the refuge's cafe washing the volunteers' dishes. I was also present when she learned that money had been stolen from the parque funds. Her emotional devastation could not have seemed more genuine. When I left Inti Wara Yassi, she expressed a great deal of gratitude to me for my help and made me feel very appreciated. As for Juan Carlos, the founder of Inti Wara Yassi, I did not get the opportunity to get to know him personally. However, he does have the trust of Jane Goodall, whom I admire. (I actually discovered Inti Wara Yassi because Juan Carlos was featured on a television program on Animal Planet in which Jane Goodall talked about her heroes in the field of animal conservation and rehabilitation.) Furthermore, the photographs produced by the opposition, of a youth at IWY being beaten, look faked. My experiences with the local people and their lack of respect for the animals also make me hesitant to trust them.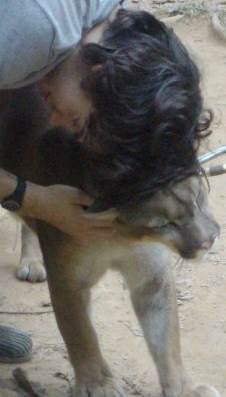 So I choose to side with IWY in this crisis. But I do not expect others to be convinced solely by my feelings on the subject, but encourage them to investigate the situation for themselves and to do what they can. If you have some media connection, this is at the very least a compelling story worth investigating. See below a file with a number of contacts: the IWY website, Animales SOS (who claim that the organization is corrupt), my own e-address, and that of other people associated with the park. Feel free to contact any of them.
John Martin is an attender with the Animal Kinship Committee, sponsor of The Peaceable Table. The photo at left shows a tender moment between John and his mountain lion friend Sonko.

[Show links and email addresses]
We invite responses to editorials or any other feature of PT for our next issue's letter column: graciafay@gmail.com.