Editorial: Neither Wickedness Nor Sorrow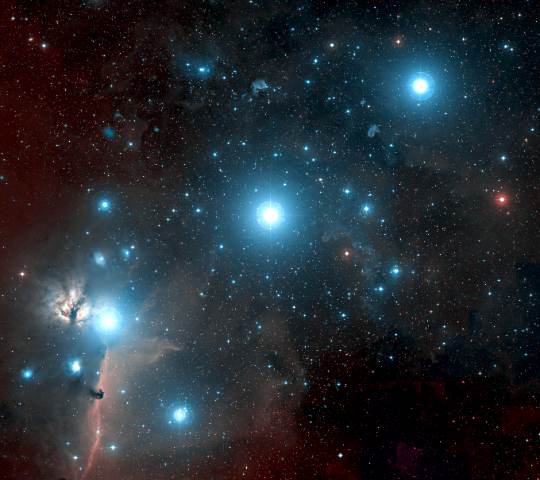 It is a summer evening of perhaps 1812, as described in Jane Austen's Mansfield Park; the scene is the music room in the great country house of a wealthy English baronet. While their companions gather at the pianoforte, two young people, Frances "Fanny" Price and her adored cousin Edmund Bertram, stand at a window looking out at the stars
. . . where all that was solemn and soothing, and lovely, appeared in the brilliancy of an unclouded night, and the contrast of the deep shade of the woods. Fanny spoke her feelings. "Here's harmony!" said she, "Here's repose! . . . . Here's what may tranquilise every care, and lift the heart to rapture! When I look out on such a night as this, I feel as if there could be neither wickedness nor sorrow in the world; and there certainly would be less of both if the sublimity of Nature were more attended to, and people were carried more out of themselves by contemplating such a scene."
Given the setting, one might think that the speaker is a naive and sheltered heiress, ignorant of the cruelties of the powerful and the suffering of the defenseless in the world of two hundred years ago. But such is not the case. Fanny is not a daughter of the house but a penniless relative, unofficially adopted at age ten from the squalid household of uncaring parents. In this huge luxurious house her bedroom is a small unheated attic. She is ordered about by her two aunts, sometimes worked beyond her strength, and made to feel her inferior status at almost every turn. The chief abuser is her Aunt Norris (the name is derived from a notorious plantation manager), whose verbal attacks relentlessly work on her nervousness and insecurity. And far from being ignorant about social evil, the sensitive Fanny is well-read on current events, including the struggle against human slavery.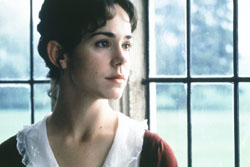 What we have here then is a most extraordinary situation: a wounded soul, victim of longterm, ongoing child abuse and neglect, who when she looks at the stars "feels as if there could be neither wickedness nor sorrow in the world"! Knowing and feeling, mind and heart seem hopelessly at odds. She asserts that evil and sorrow do not exist in the face of her painful daily experience of both; and she remains convinced that they would be lessened if people would spend more time contemplating the night sky, and thus be "carried out of themselves" into rapture, as she now is.
Significantly, Fanny's rapture is brief: her beloved drifts away from the starlit scene toward the candlelit one; he forgets the celestial harmony in favor of a popular song (led by another woman, with whom he is falling in love). Fanny sighs alone at the window until Mrs. Norris scolds her away.
There has been very little critical comment about the paradox in this scene, but it is worth a second look. I believe it contains a strain of hope for those of us who, if not ourselves victimized by human wickedness, do share deeply in the sorrow and anguish of our kin who are, and sometimes feel bitterly helpless to do much about the institutional evil that causes it. But the scene is dark in more ways than one. I see one explanatory hint in the heroine's name. Though she is always referred to as Fanny (then a common and acceptable diminutive), there is no question but that her real name is Frances, after her mother. And there are a number of suggestions that she is a nature mystic, a spiritual daughter of the beloved saint of Assisi who was the first in the West to give voice to the conviction that all things and beings in nature, stemming from the same Source as ourselves, are our brothers and sisters. In nature this Frances finds the only tender, nurturant parent she has ever known. Contemplating its scenes gives her peace, arouses her sense of wonder and gratitude, renews her hope. She finds guidance in the nature poetry of William Cowper, who speaks of perceiving in nature "the unambiguous footsteps of the God / Who gives [the] lustre to an insect's wing, / And wheels his throne upon the rolling worlds. " There is also a suggestion that she loves Wordsworth's poetry, with its reflections on feeling the presence of the same life-giving spirit blowing through nature and humanity.
If we see her as a nature mystic, it is unsurprising that Fanny's sorrow, at least, is lessened as a result of contemplating the starlight. Jay McDaniel, philosopher and friend to all creation, casts further light on the process in his book Living From the Center:
Sometimes, if something terrible has happened . . . it can help to follow the advice of Walt Whitman . . . . to go outside on a clear night and gaze into the dark and starlit sky . . . .

The sky and its stars can be a holy icon, an enfolding womb in which we feel small but included in a greater wholeness. The greater wholeness is God, the Open Space. The moist night air, which gives freedom and freshness to our souls, is God's Breathing.

We experience this Breathing in two ways. First, . . . through the healing grace of the sky itself, which reminds us that there is something more to the universe, much more, than is contained in our suffering, no matter how intense it might be. Here, the sky functions as a stained glass window through which divine light shines: a dark light, to be sure, but a holy light as well.

Second, we experience the Breathing through our own internal . . . wonder at the spectacle of the sky, through our delight in the beauty of its thousand points of light. In our amazement God breathes as deeply as in the sky itself. Complementing this amazement, there can also emerge an additional and more subtle feeling: a sense of opening out into the night sky and trusting the mysterious [P]resence, the dark mystery, that shines through it . . . . This opening out into trust is what I mean by "faith" . . . .
Of course, not everyone who has the opportunity to see a clear sky full of stars consciously experiences this Presence, but most who do have the opportunity can sense something of that awakened awe, feel something of its power to lessen sorrow, even if not as intensely as a mystic like Fanny might. Jay McDaniel affirms this process when he goes on to say,
Faith has a healing effect in our lives . . . . But it does not do so by changing the objective situation. Rather, it does so by giving us the inner resources to deal with a bad situation, no matter how horrible it might be.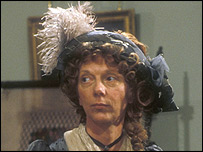 This is a blessing to be cherished. But how could attending to the stars possibly lessen wickedness? Even more, how could there be any reality behind Fanny's feeling that neither wickedness nor sorrow can exist? As we noticed from the close of Austen's scene, the evil incarnate in Mrs. Norris is definitely still there, not at all diminished by the numinous Presence in the starry night, and there is no sign in the story that she would behave with less cruelty even if she attended to it.
But we can perhaps gain some understanding of a reality behind Fanny's extraordinary claim by looking briefly at the concept of the mysticism of union. The union in question refers not only to the experience of the mystic that in her rapture she is united with the Divine/Ultimate, but affirms an intuition that all things, all concepts and categories, including opposites, are finally One. Speaking both experientially and as a philosopher of religion, William James (who in his personal life dealt both with deep depressions and the death of his little son) says in his classic text The Varieties of Religious Experience,
Looking back on my own experiences, they all converge towards a kind of insight . . . . The keynote of it is invariably a reconciliation. It is as if the opposites of the world, whose contradictoriness and conflict make all our difficulties and troubles, were melted into unity. Not only do they, as contrasted species, belong to one and the same genus, but one of the species, the nobler and better one, IS ITSELF THE GENUS AND SO SOAKS UP AND ABSORBS ITS OPPOSITE INTO ITSELF (emphasis in original).
To some readers, statements such as this will ring true, however little sense they make literally; for others, they will remain meaningless, unless perhaps they are cast into the future tense, as in Lady Julian's saying: "All shall be well, and all shall be well, and all manner of thing shall be well."
Either way, the value of such claims, as of the feelings of union underlying them, is in their workability: their ability to enable us to be "carried out of ourselves," out of our encapsulation and separateness, to a realization that we are one. The cultural wickedness that leads to the vast suffering and sorrow of human and animal slavery is based on the illusion of encapsulation; it regards the slave as a separate thing, an object that serves the benefit of the separate master. An experience and a conviction that we are not confined to separate capsules but are all One can empower us to take liberating action on behalf of both our human and our animal kin, and to keep on keeping on, even when the stars are invisible in the light of common day.
--Gracia Fay Ellwood
The skyscape shows Orion. The second photo is of Frances O'Connor, who portrayed Fanny Price in the 1999 Patricia Rozema film. The third photo is Anna Massey as Mrs. Norris in the 1983 BBC film.