Editorial: The Hidden Paradise
"Now was I brought up through the flaming sword into the paradise of God. All things were new; and and all the creation gave unto me another smell than before, beyond what words can utter." -George Fox, Journal
". . . [A]s people come into subjection to the Spirit of God . . . they may . . . receive the . . . wisdom that opens all things, and come to know the hidden unity in the Eternal Being." -- Ibid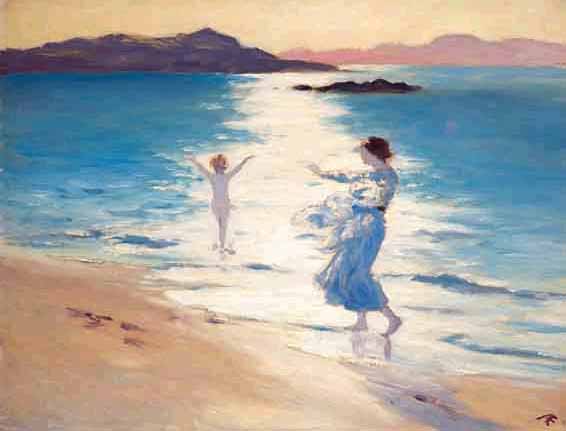 The central Quaker conviction is the presence in everyone of the Inner Light. What if it were also called the Inner Love?
The Hidden Unity
The reality behind the term, the That which links us to God, is well understood to be the ground of our commitment to Peace, to Nonviolence. It is also the foundation of our relationship to nature, particularly to animals, and in this regard "Light," insofar as it tends to be associated with guidance, may not be helpful. Two of the reasons why Friends have privileged the term "Light" are its prominence in the Fourth Gospel and other Johanine writings, and the teachings and visionary experiences of George Fox. This is especially true in the crucial "ocean of light" vision during his period of spiritual awakening: "I saw . . . an ocean of darkness and death, but an infinite ocean of light and love, which flowed over the ocean of darkness; and in that I saw the infinite love of God." Love is not only equally emphasized in this account of Fox's, but is equally (or even more) prominent in the Johanine writings than light. Infinite Love is the divine Presence manifesting as the magnetic drawing together of the separated and alienated, the Hidden Unity. Elsewhere, Fox says "[M]ind that which is eternal, which gathers your hearts together up to the Lord, and lets you see that you are written in one another's hearts. . ." As we come closer to realizing the divine Presence within, we come closer to all the universe, permeated as it is with that same Presence.
As the Inner Love or Hidden Unity is more and more fully manifested, violence and exploitation are ruled out; harmony prevails, not only in human society but among living beings and the rest of nature. This state might be called "the Hidden Paradise." The term Paradise (originally Persian) is usually understood as a state of past and future. It is identified with the Edenic garden at the beginning of the biblical saga of history, and anticipated as returning in the Messianic Age, or the Peaceable Kingdom in which the wolf and the lamb will lie down together. But there are good reasons to hold that, despite the world's enormous evil--ignorance, alienation, violence, and pain--Paradise is a present reality. George Fox certainly found it so, according to his vision in the first epigraph above.
The concept of a power drawing together all the separated is a major theme of German Romanticism, significantly expressed in Frederich Schiller's 1785 poem "An den Freude," "Ode to Joy." The Divine Light is suggested in its imagery of fire: Joy is addressed as the "spark of the divine," the "daughter of Elysium."
Wir betreten feuertrunken,
Himmlische, dein Heiligtum.

Deine Zauber binden wieder

Was der Mode Schwert geteilt

Bettler werden Fuerstenbrueder

Wo dein sanfter Fluegel weilt.

Seid umschlungen, Millionen! . . .

Drunk with fire, now we enter

Goddess, thy most holy shrine.

Thy strong magic binds together

What Convention's swords divide;

Beggar is a prince's brother

'Neath thy downy pinions wide.

We embrace you, all ye millions! . . .
Beauty and Splendor
Another characteristic of Paradise is preternatural beauty and brightness: glowing colors, exquisite shapes, celestial music, intoxicating fragrance. The familiar and the strange are united: human beings may seem to be angels, flowers and leaves to be living jewels; mountains or trees or rivers may be indwelt by numinous beings. The whole Earth, and each thing in it, are intensely alive.

Writings of other mystics and poets support Fox's account of experiencing Paradise as a present reality. For example, his contemporary Thomas Traherne, a devout Anglican clergyman and poet, in his book Centuries of Meditation describes a childhood in which he seemed "as one brought into the Estate of Innocence. . . . . I saw all in the peace of Eden . . . . all time was Eternity . . . . The [grain] was orient and immortal wheat. . . .The dust and stones of the street were as precious as gold . . . The green trees . . . transported and ravished me . . . almost mad with ecstasy, they were such strange and wonderful things . . . .Boys and girls tumbling in the street . . . were moving jewels . . ." Though Traherne later learned "the dirty devices of the world," and had to unlearn them, he never fully lost his awareness of the presence of hidden splendor: "The world is a mirror of infinite beauty, yet no man sees it."
Presence
Similarly, Wordsworth's poem "Ode: Intimations of Immortality . . . " reflects on a childhood in which "meadow, grove, and stream / To me did seem / Appareled in celestial light, / The glory and the freshness of a dream"--a splendor that as an adult he could no longer perceive, though nature still was lovely to his eyes. In "Tintern Abbey" he speaks of
a sense sublime
Of something far more deeply interfused,
Whose dwelling is the light of setting suns,
And the round ocean, . . . and the mind of man;
A motion and a spirit, that. . .
. . . rolls through all things."
The city-bred Irish poet and artist AE (George Russell, 1867-1935) also perceived a living Spirit and a preternatural brightness in nature and in otherworldly visions. Unlike Wordsworth and Traherne, he largely developed the gift as he approached adulthood. In A Candle of Vision he says that "Such a beauty begins to glow on us as we journey towards Deity, . . . I would cry out to our humanity, sinking deeper into the Iron Age, that the Golden World is all about us and that beauty is open to all . . ."
Harmony with Animals
Wordsworth thought of the "motion" and "spirit" as impersonal, while Traherne experienced this power as the Creator. But neither of these nature poets is known to have tried to realize the harmony of Eden in relations with animals; in fact, in his long poem The Prelude, Wordsworth relates how in his happy childhood he even set snares for birds. It seems that one can feel oneself to be living in a state of paradisal unity with nature, and yet engage in monstrous violence against fellow dwellers in the Garden. George Russell was rather more in tune with his fellow animals (human and otherwise); he was a vegetarian, and compassionately worked to bring about a better life for impoverished peasants, but was no abolitionist on behalf of animals.
The Evangelical poet William Cowper (1731-1800) in his long poem of 1785, The Task, does better than Wordsworth and Traherne in this regard. Not only does he perceive signs of Paradise in nature, tracing it to the Creator's Presence: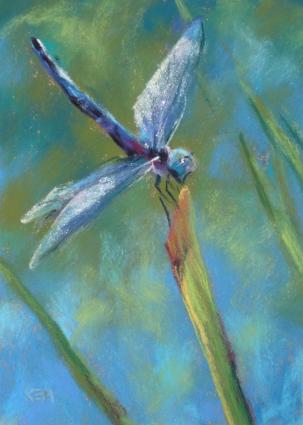 The soul that sees Him . . .
Discerns in all things what, with [stuporous] gaze
Of ignorance, till then she overlooked,
A ray of heavenly light gilding all forms
Terrestrial, in the vast and the minute
The unambiguous footsteps of the God
Who gives its lustre to an insect's wing
And wheels His throne upon the rolling worlds.
Cowper also gave emphatic expression to his kinship with animals. With prophetic fervor he excoriated hunting, the "detested sport / which owes its pleasures to another's pain." He created a mini-paradise of harmony for a few hares whom he befriended, feeding them by hand, and harboring them in his house from "the sanguinary yell of cruel man" and "the savage din of the swift pack" (PT issues 2, 27, and 31). Although he unfortunately saw the Bible as justifying meat-eating, it is likely that he himself chose vegetarianism, since he lived very simply, and notes that we are only "carnivorous, through sin."
The Beatrician Vision
Support of a somewhat different sort for the hidden paradise is also found in the work of Anglican theologian and literary critic Charles W. S. Williams (1886-1945). In his poems and novels, and his studies of Dante and Wordsworth, especially The Figure of Beatrice, Williams proposes that the celestial light that Wordsworth saw in nature is essentially one with the wonder that Dante saw in his Lady. "She seemed the daughter of a God." This divine Glory is what anyone who falls in love perceives in the beloved. The lover may be largely unaware of the beloved's very real faults and sins during this temporary period of openness to the Glory; thus the commonplace saying "Love is blind."
After the vision passes, as it nearly always does in a year or two, those faults will probably be glaringly apparent, and the lover usually comes to agree with the majority opinion that what s/he saw was an illusion. But, says Williams, it is not; all along, the Glory has coexisted with the beloved's sins. Mostly unseen, it is present in everyone, just as the same celestial splendor remained in nature although Wordsworth could no longer perceive it. Williams views this temporary openness, which he calls "the Flying Moment," as a challenge to awaken spiritually: the lover, like the nature mystic, is called to enter the long, hard path of learning to love all his or her neighbors as himself. In effect, s/he is to realize, so far as possible, Edenic harmony in human society as well as in nature. Unhappily, Williams, like Wordsworth and Traherne, failed to apply this principle to love for nonhuman neighbors.
Realizing the Inner Love
Clearly, there is tension between different aspects of the Hidden Paradise. Many fall in love, and later fall out of love, without heeding, or even hearing, the call to realize the Hidden Unity. Some have felt and yearned after the divine Presence and/or the luminous beauty they perceived in nature, but never questioned the blood on their plates. And many animal activists, working to realize the kinship with animals by opposing human violence against them, have fallen to the temptation of mental or verbal violence against the abusers (a few even justifying physical violence). This stance, needless to say, does not help to realize the Inner Love.
The young Francis of Assisi dreamed of becoming a heroic knight, of attaining honor and fame by doing battle with injustice. But his two knightly expeditions fizzled dismally. He began to hear the voice of Christ, whose message was very different. As Murray Bodo points out in his essay "Francis of Assisi," the would-be knight learned that what he must fight was the darkness within himself, especially the fear that underlay it. (Perhaps Francis' greatest dread was touching a leper.) Instead of an acclaimed hero, he had to become a despised beggar. Only when he fought against and defeated his fear, the self-aggrandizing desires laced through his good will--his own potential for evil--did his mind open to the Hidden Unity, his eyes to the Hidden Paradise. Keeping his face turned to the Presence, he became a man of peace, unable to do violence to any because he realized that all beings, all creation without exception were his sisters and brothers. Only love for the (seeming) enemy can transform that enemy to the friend s/he in essence is.
--Gracia Fay Ellwood
Painting of mother and child on the beach by AE.
Painting of dragonfly by Karen Margulis.
A portion of this editorial will appear in my essay "A Quaker View: Prophets and the Hidden Paradise" to be published in Call to Compassion: Religious Reflections on Animal Advocacy. Edited by Anthony Nocella, it will be issued in 2009 by LanternBooks.

A Glimpse of the Peaceable Kingdom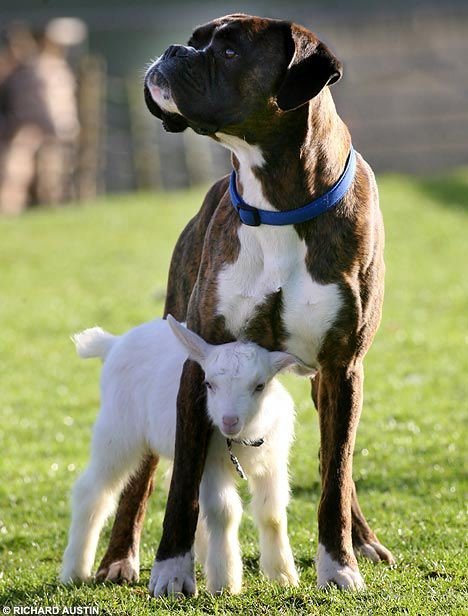 A paternal boxer dog has adopted an abandoned baby goat as his surrogate child.
When only a few hours old, Lilly, the smallest of triplets, was rejected by her mother who could only care for the two stronger kids. Their caretaker, Elizabeth Tozer, began hand-feeding Lilly. The little waif was soon adopted by the compassionate Billy, who became her constant companion. According to Ms. Tozer, "Lilly follows Billy around, which is really quite amusing to watch." He sleeps with his baby, licks her clean, and protects her from any dangers that might lurk at Pennywell Farm and Wildlife Centre at Buckfastleigh, Devon, in southwest England.
The pair have attracted quite a crowd at the animal center, and the staff are keen to see how their relationship will develop.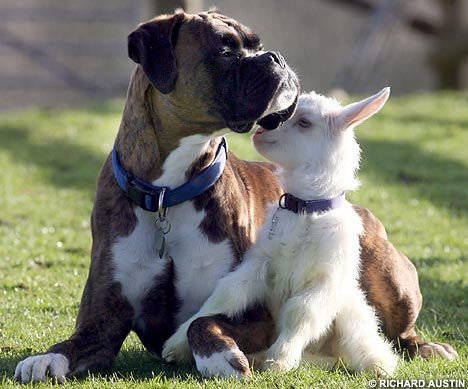 --Contributed by Virginia Iris Holmes
--Photos by Richard Austin